Successful entrepreneur and beauty boss, Sandra Bledsoe, is the proud founder of award-winning medspas, Revenge MD, celebrated for helping clients turn looking good and feeling great into a super power able to influence the energy of any room. 
With an extensive background in weight loss management, aesthetic adjustments, anti-aging, and even sexual health, Bledsoe has built a world class reputation in leading the wellness industry as it has evolved overtime by actualizing life-changing results for her patients. It is this very exchange that has coined Revenge MD as the Top Women-owned Business Of The Year where patients are empowered in their pursuit of becoming finer, happier, and healthier with age, which to Sandra and her team is the ultimate revenge! 
Sandra is acknowledged for her accolades as the most skilled cosmetic injector in Las Vegas. She is also the creator of a proprietary tested technique called "PTSP" (Placement Of Product, Technique, Strength Of Product, Pricing), which is a method taught to practitioners to equip them to provide clients with the consistent and predictable results they expect every visit, no matter which Revenge MD location they frequent. Along with cosmetic injectables, Revenge MD offers various wellness therapies such as physician supervised medical weight loss, hormone replacement, IV replenishment, salt facials, PDO threads, and services that actively work to reduce wrinkles, plump lips, and balance one's profile.
While non-surgical face and body restoration are of focus, Sandra's ultimate goal is to prepare and execute a roadmap for clients to meet a more advanced version of themselves through results-oriented transformation and mind-body-soul connection.
Bledsoe shares, "By connecting our services to meet emotional needs, our clients feel heard and appreciated, which are the building blocks to strong and long-lasting relationships. I personally care a lot about making people feel worthy and I realized that it's not who people think they are that holds them back, it's who they think they are not. That's where Revenge MD shows up to redefine the status quo on how one experiences self worth and self love."
---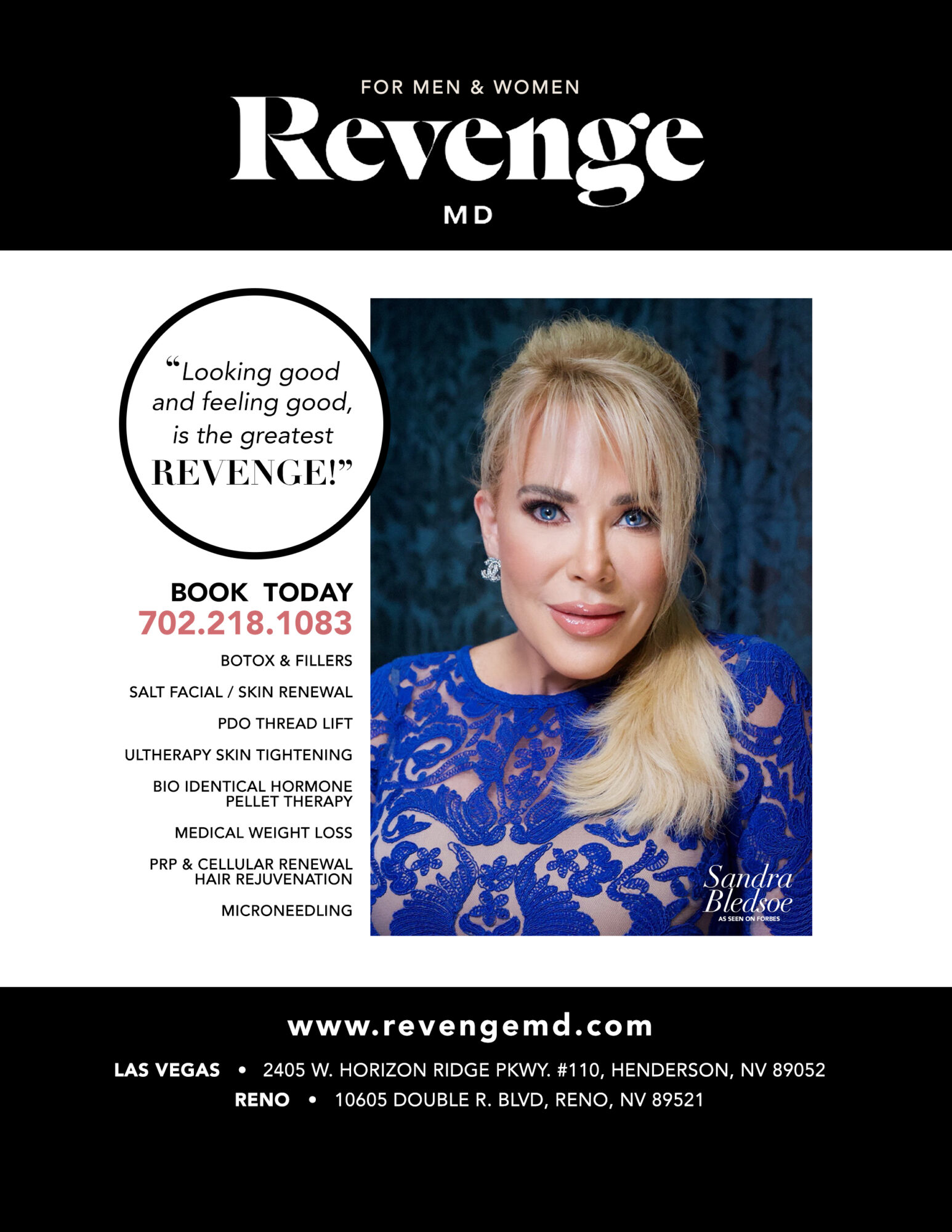 Revenge MD Sandra Bledsoe
---
Bledsoe's doctrine on wellness is anchored in her understanding that no system operates independent of one another and that the human body has an inevitable will to heal itself. She also advocates that internal wellness and physical beauty are interconnected to where proper nutrition, mental health, and practicing mindfulness are to be equally leveraged along with the treatments and services offered at Revenge MD in order to enjoy the full range of benefits. Not only is Sandra a depth of knowledge, but her passion for sharing education has organically grown into a viral personal brand making real impact rooted in human connection. She selflessly pours into her amazing staff that believe in her, including other entrepreneurs, and each individual that she has the opportunity to uplift. Bledsoe elaborates, "Your legacy is every life you touch. When we wake up each morning and look in the mirror and instantaneously like what we see, we feel good! When we feel good, we treat others better, and when we treat others better, we create a very positive ripple effect throughout the universe. This is called thumbprinting and it is how we engineer a fulfilled future in life and business."
The practice of thumbprinting good energy has been a guiding principle to her rise to fame in the beauty industry, combined with sincerely caring about helping people love the life they lead.
When asked what Bledsoe's remedy for success in business is, she shares, "Enthusiasm and confidence are two non-negotiables if looking to make it big in this business. Everyone who sets out to conquer their industry and attain long term success has to have passion for what they are doing. The more educated we are, the more passion we develop. Secondly, offerings have to benefit and help people. Last but not least, you have to be highly educated about everything in your field of expertise so you can continue to do it best and be the first to evolve with emerging technology."
Bledsoe also mentioned how she realized early on in her career that she is only going to be as good as her team and because of that, it has to be strong in order to scale. She further explains, "Building a supportive team that practices positive thumbprinting has made us incredibly resilient. We don't give up or back down and fully support our goal to exceed expectations each and every appointment." It is this level of mastery that keeps Revenge MD rated #1 medspa and always an extraordinary first class experience! 
---