If you thought IV therapy was just another hangover cure, think again. 
VegasIV, the hottest new name in health and wellness, is backed by the medical expertise of doctors Scott and Rebecca Scherr and specializes in everything from immune support to overall health and beauty.
Scott Scherr moved to Vegas in the early 90s and attended UNLV. Dr. Scherr earned a degree in Radiologic Sciences and Health Physics and his medical degree at University of Nevada School of Medicine. Following his graduation from UNLV in 2003, Scott would complete his residency training as chief resident at Emory University in Atlanta, Georgia. Scott is currently a Regional Medical Director and manages 14 Emergency Medicine and Hospital Medicine programs in Nevada and California. He was also the Medical Director at Sunrise Hospital from 2012 to December 2017, and supervised the hospital's trauma center the night of the Route 91 Harvest Fest shooting at Mandalay Bay.
Dr. Rebecca Scherr is a true Las Vegas native. She received her Bachelor's degree in Biological Sciences from UNLV and her medical degree from the University of Nevada School of Medicine. She met her husband Scott during biology class at UNLV and would also attend Emory University for her fellowship training in Pediatric Gastroenterology. Rebecca is the former President of the Nevada Board of Directors for the American Heart Association and the current Chair of the Advocacy Committee. Equipped with a true passion for health and wellness education, Rebecca loves to teach patients, students, friends, and family about nutrition and healthy lifestyle habits. 
Scott met Christian Bishop, one of Vegas IV's co-founders, during business school. When Scott told his wife that he was partnering with Christian for VegasIV, she asked: "Who's your vendor for these products? What are your formulas?" Scott didn't have an answer. So, on Labor Day weekend of 2022, the duo sat down and came up with all of the formulas for VegasIV therapy. They did background research, product research, market research, and studied various medical literature. 
"Every product line and service we do will be based on literature and will have potential health benefits for our clients," says Scott. "Becca deals with IV nutrition for sick patients every day, and her extensive knowledge is the driving force behind VegasIV's health and wellness goals."
"We specialize in high-quality infusions that make medical sense," Rebecca adds. "An IV is an invasive procedure, and we need to make sure the additives have health benefits and are not harmful for our patients." 
The average American spends a lot of money on oral vitamins, most of which have a 30-40% absorption rate. With IV therapy, the absorption rate is 100%. During last years' tripledemic of Influenza, RSV, and Covid – 19, the Scherrs found that VegasIV's "Super Immune" and "Cold and Flu", which include zinc and vitamin C, helped shorten the duration of the viral illnesses. Many people, especially travelers looking to boost their immune system, reached out to them and got infusions. 
As Rebecca tells her students and friends: "All of those vitamins on your counter are contained in one IV which lasts 4-6 weeks, gets absorbed 100%, and acts quicker than oral vitamins."
---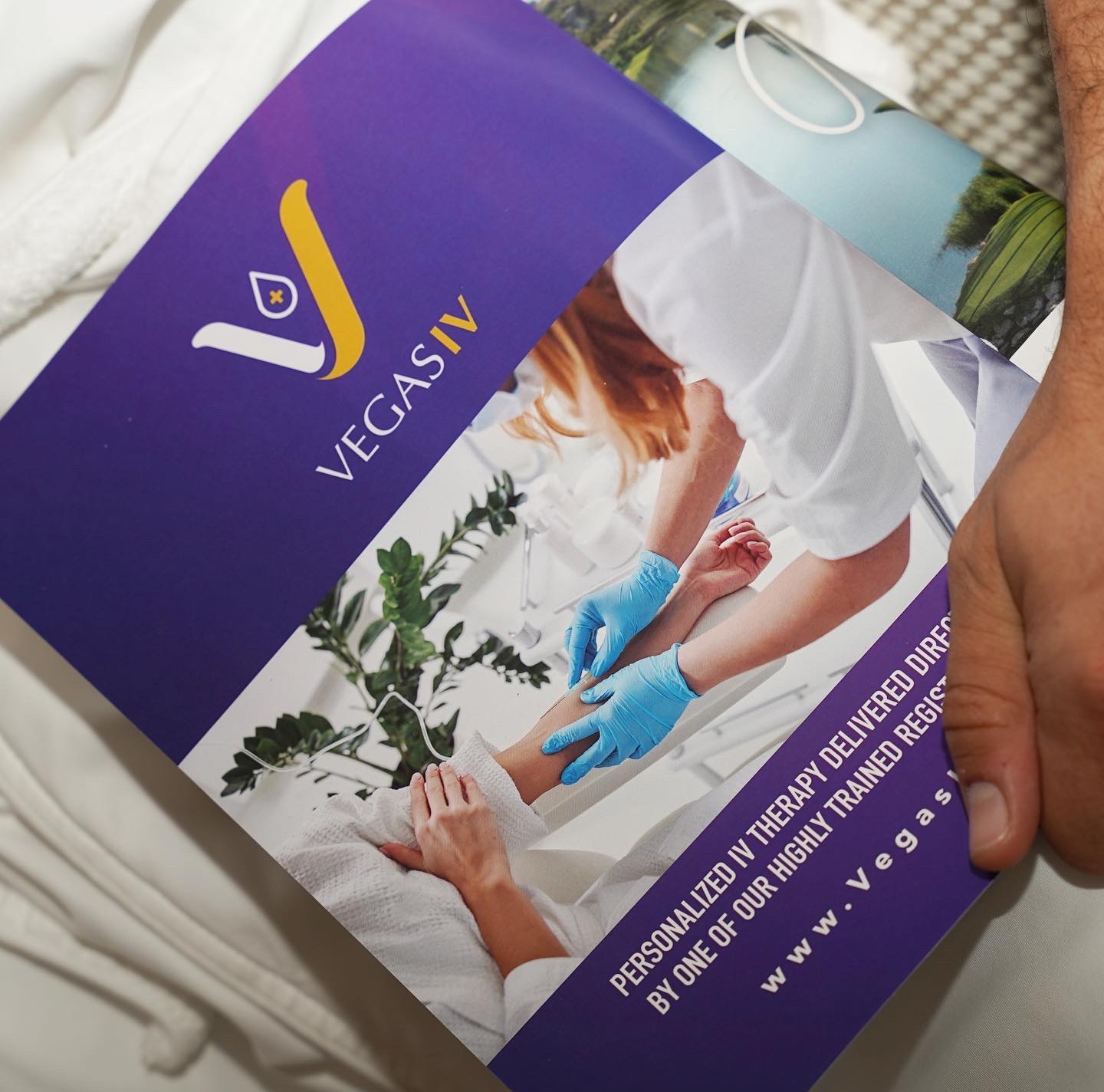 ---
The Scherrs have developed several new product lines, including formulas for migraines and GIbugs, as well as their own take on the classic Myers' Cocktail. They even have a new hair, skin and nail line.
"Our hair, skin, and nail formula consists of ingredients that keep women my age looking young and fresh," says Rebecca. "It includes a lot of B vitamins, as well as zinc and vitamin C, and helps with detoxing and building collagen for faster and healthier skin regeneration." 
If that wasn't enough, VegasIV also plans to release weight loss, relaxation, and other wellness formulas in the near future. "We want to be a 360-degree wellness company," says Scott. "We are currently testing micronutrients people are deficient in and conducting wellness labs to see what people are at risk for. We hope to eliminate these risk factors for disease with IV and other forms of therapy."
VegasIV is the most trusted health and wellness choice for visitors and residents of the Vegas Valley.
---
For more information and session booking, visit vegasiv.com or call 702-842-0000
---