When you enter Circa Las Vegas and realize you have to hit "Level 0" in order to get to Barry's Prime Steakhouse, you can already tell it's going to be special. The design, the ambiance, the sense of occasion… it is special.
Barry's Prime is a destination spot, off the strip, located in Downtown Las Vegas. It's often called "Old Las Vegas" because that's where it all began. This area was Las Vegas, back in the day. Barry's Prime emulates that with style and sophistication, without it feeling stuffy. The staff is attentive. You are treated like a VIP, but it also has an intimate feel. It's a throwback to the 50s, 60s, and 70s with a contemporary vibe. Even the music sounds familiar… old songs remixed in a new fashion. Speaking of mixing, the unique "cocktail cart" where you watch your Old Fashioned or Manhattan get made, makes it even more of an experience!
This is all important because people are spending a longer amount of time at the table these days. Owner Marco Cicion says,
"instead of ending on a coffee and moving on, they are having another cocktail or glass of champagne. They are enjoying the company and atmosphere. The normal 90 minute dinner isn't normal anymore."
Cicion, Yassine Lyoubi, and Chef Barry Dakake are partners and owners of the restaurant. They all have history in Las Vegas and you can tell they are proud of what they created.
Many people know Chef Barry from his popular restaurant N9NE Steakhouse that was located at The Palms. It was a hotspot! You could always spot a celebrity there and those celebrities and prominent people are back. "Pete Rose was here, we have a ton of the Raiders that come here, the owner Mark Davis comes here, Bill Foley that owns the Vegas Golden Knights, the Knights players come here, Big Time Rush they just came, we have a lot of WWE stars that come, Goldberg… and a lot of the UFC people," says Cicion.
---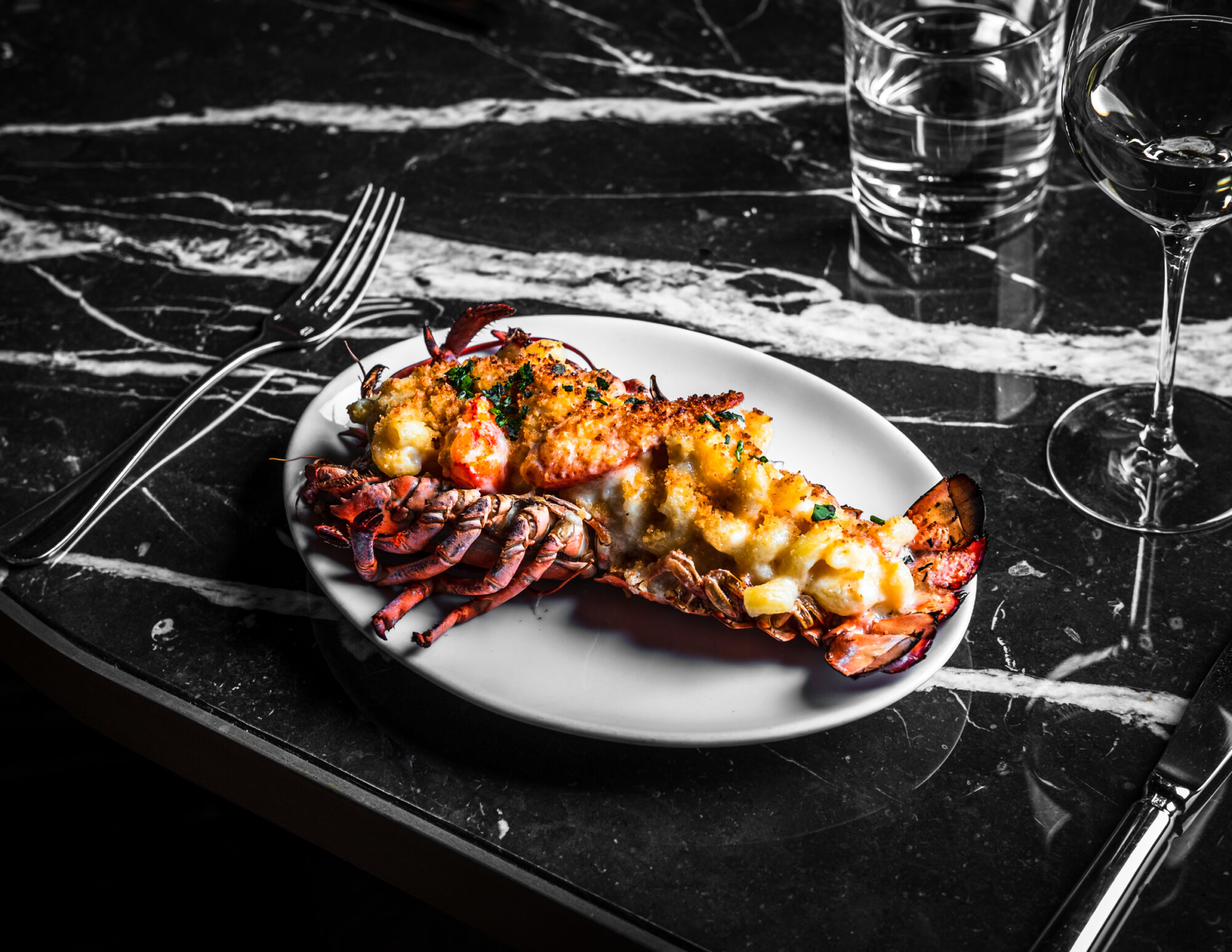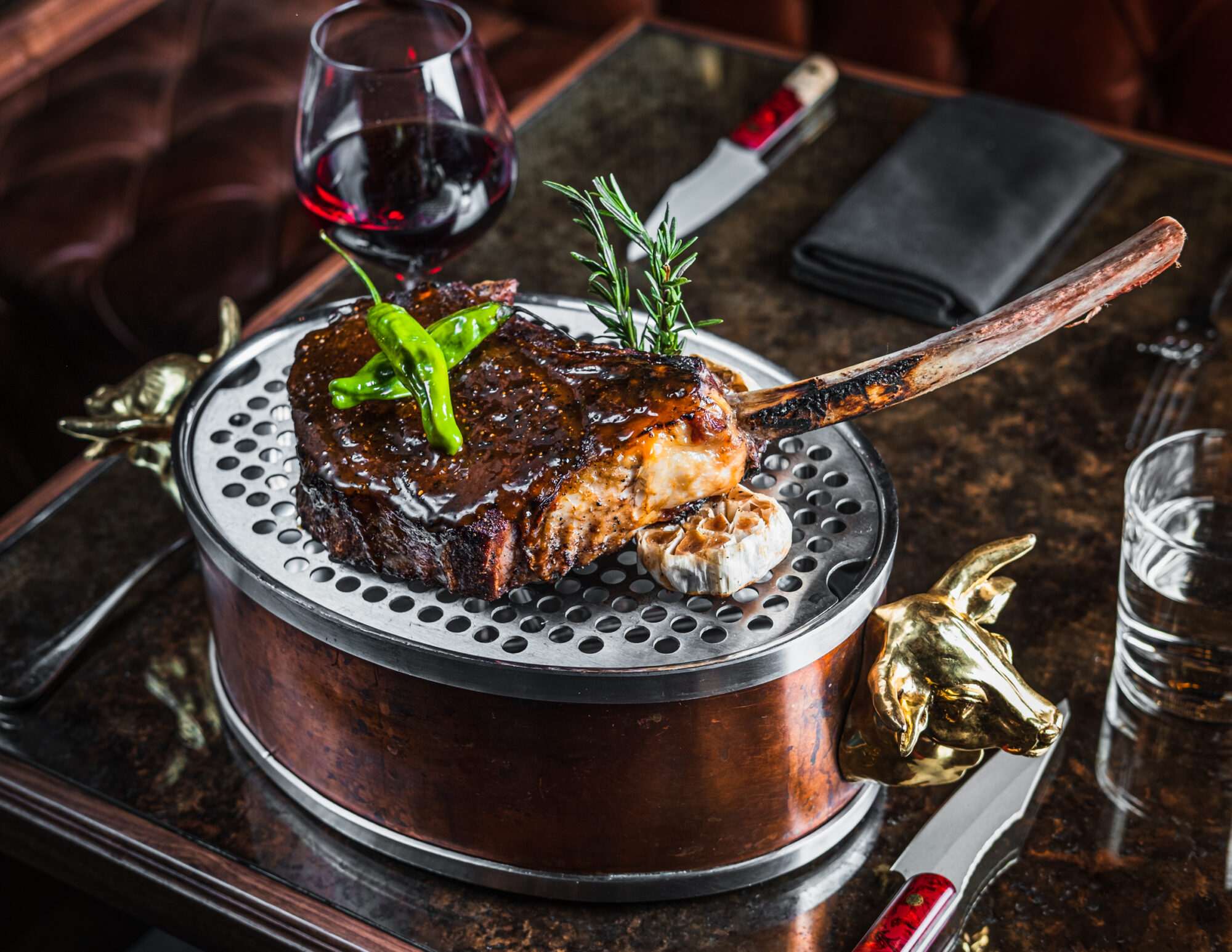 ---
Let's talk food! Not only is it pleasing to the taste buds, but it's pleasing to the eye too. I asked Chef Barry what kind of experience he is trying to create with his menu, he told me he wants it to be a memorable experience that touches on classic steakhouse fare with all those "dishes with a twist" that put the team on the map years ago.
He says, "we wanted to bring back the classics from our early 2000's menu that so many of our loyal guests and followers enjoyed for years.  Here we had the opportunity to create and recreate on our own as we please, which was the goal…to keep our customers happy."
---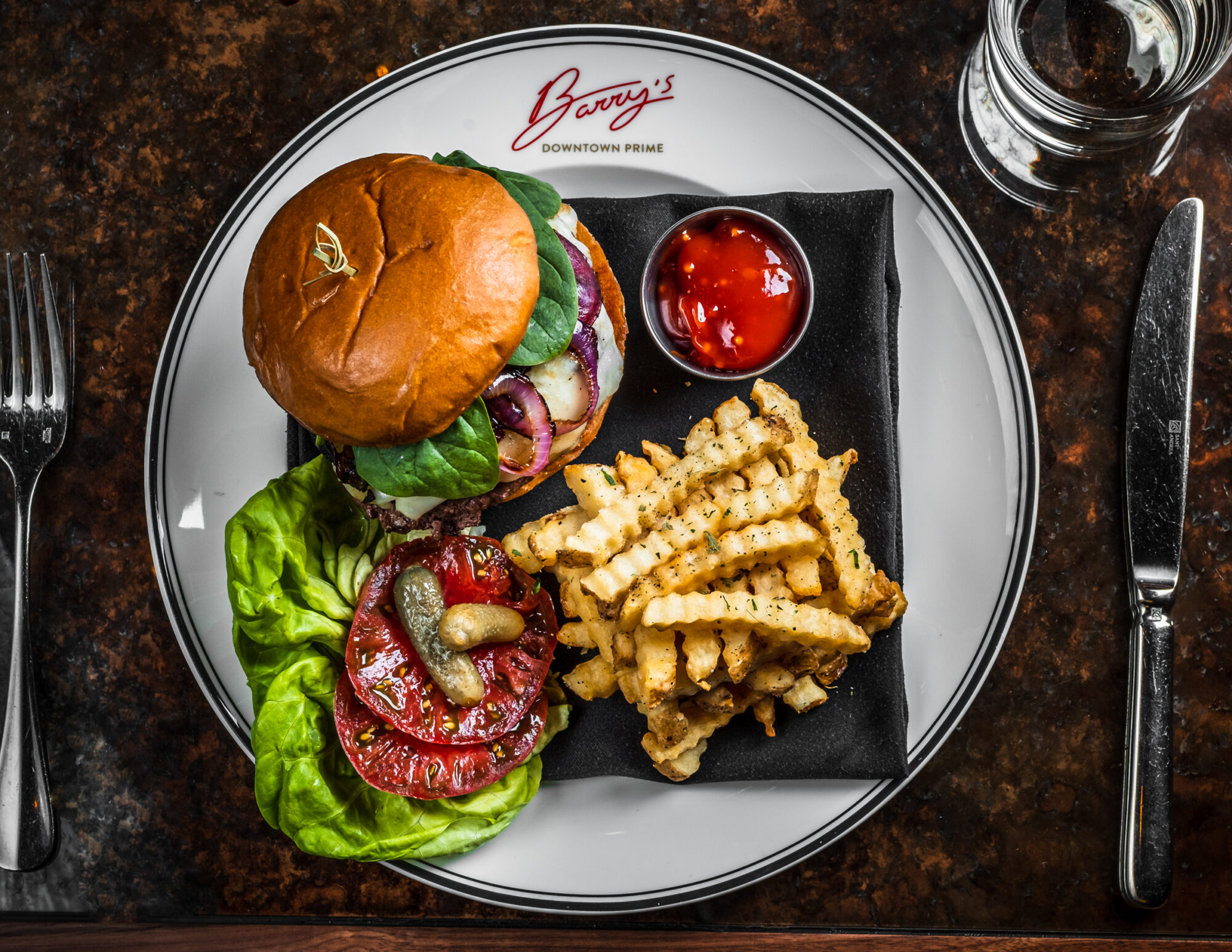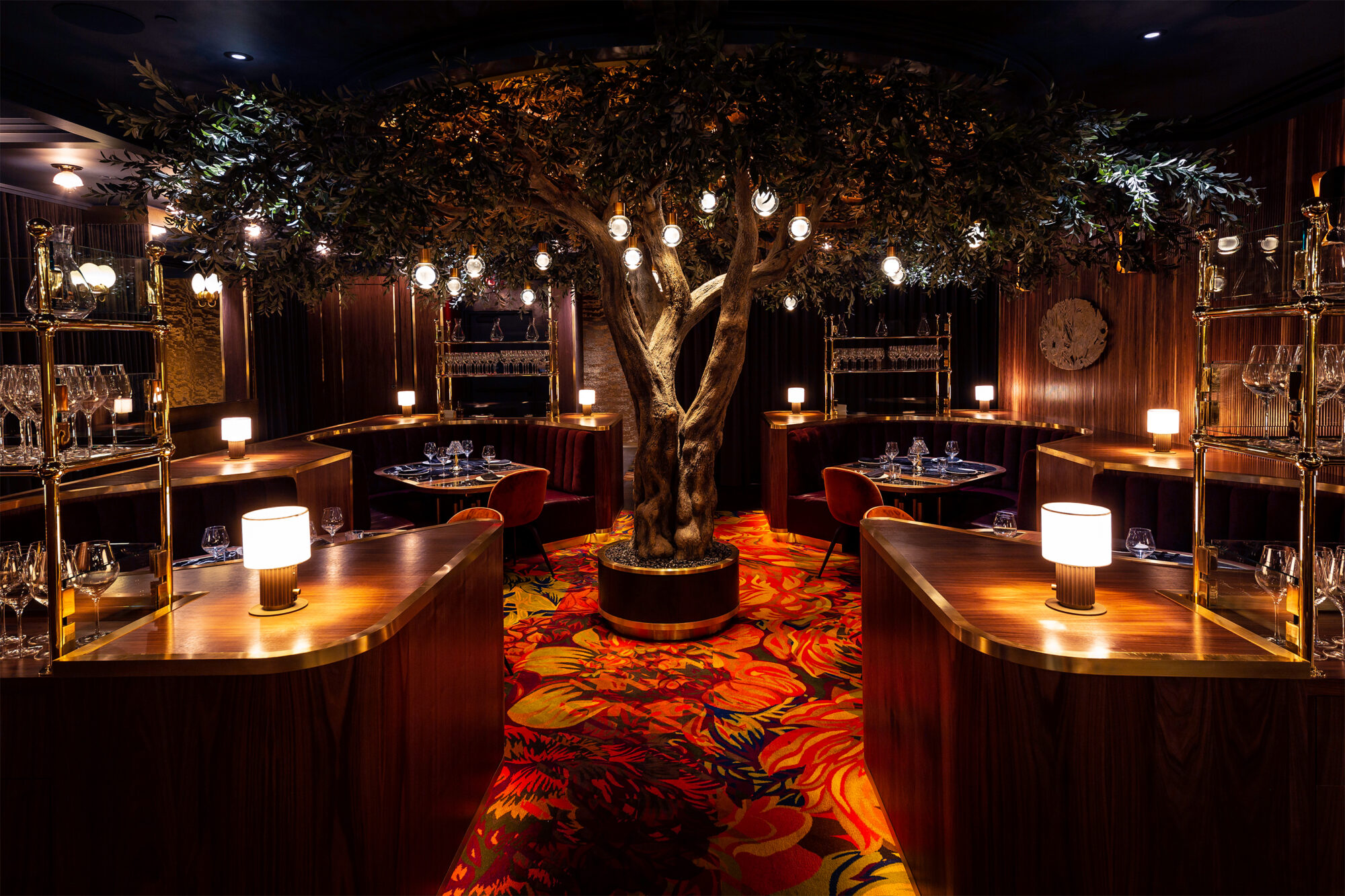 ---
Barry's Prime was recently shortlisted for the 2021 restaurant and bar design awards too. The restaurant was designed by PUNCH. The lower romantic lighting and low ceilings are a highlight. Cicion says the partners are old school,
"it's an homage to that era that we love. Booths, leather, wood, dark lighting."
The artwork is also locally sourced. Chef Barry says,
"we really wanted to give a fresh revival to the classic Las Vegas steakhouses of the past, yet make it a familiar and comfortable home away from home for our locals and celebrities."
Partner Yassine Lyoubi told me more about the vision. "After visiting restaurants throughout the country and internationally, we felt that there was room for a steakhouse that "hit different".  That was when we approached my brother Namyd Lyoubi (architect with PUNCH) and asked if his team would take on this project.  With the blessing of Circa owner, Derek Stevens, our steakhouse was carved out of the overall design plan
and taken on completely by PUNCH. We had multiple sit downs with Namyd and the team throughout the process and all agreed that we needed a steakhouse that took us back to a certain era, classic cool 50s and 60s with timeless appeal.  It was all about feeling and hospitality, clean, sexy, hip."
---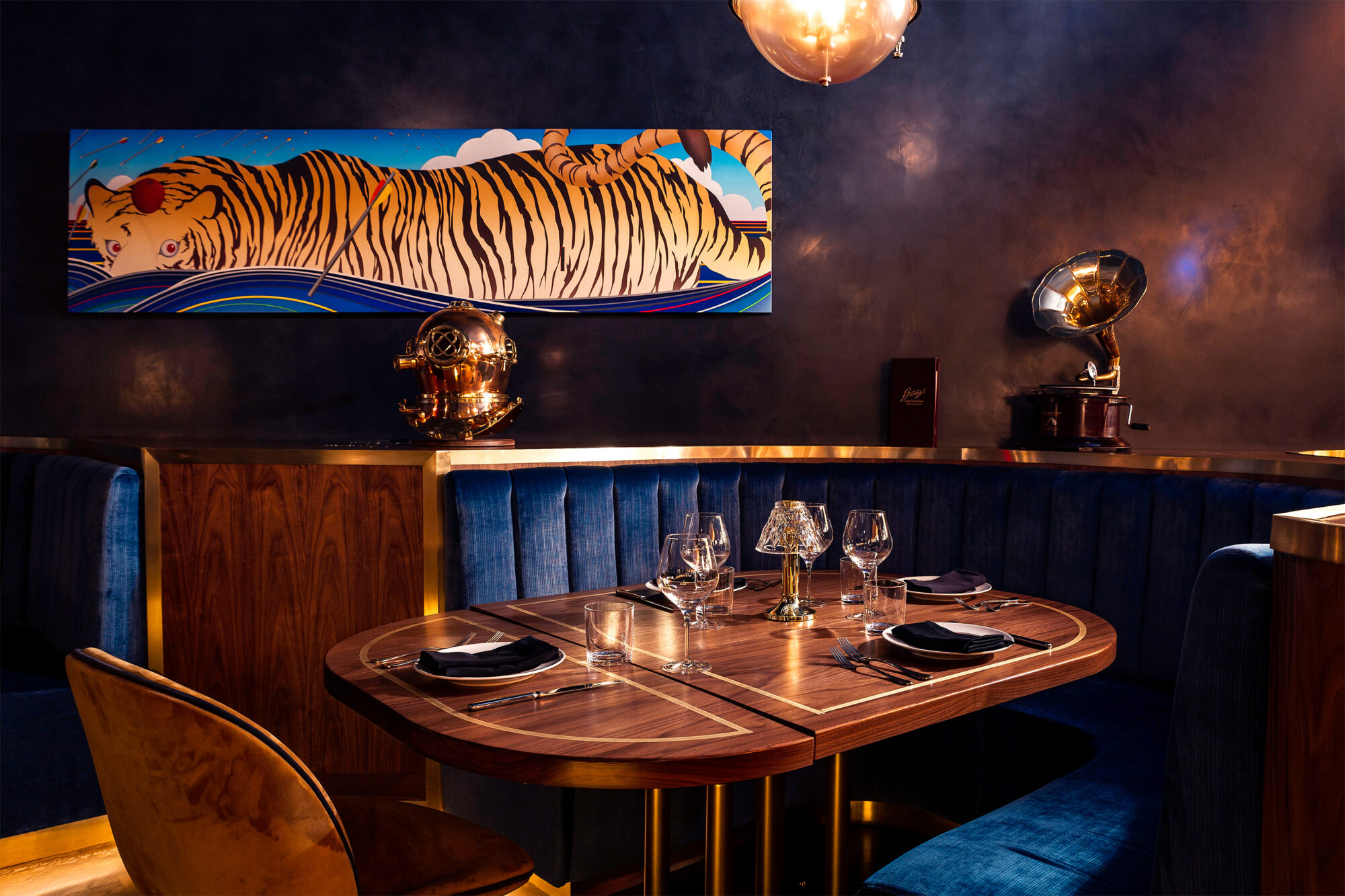 ---
Barry's is also the official Vegas Golden Knights steakhouse. Community is important to the restaurant team, so they felt it was a perfect fit since the NHL hockey team is such an important part of Las Vegas and gives back.
Lyoubi says he couldn't be more proud of the restaurant's staff and executive team.
"We had to think outside of the box, opening a restaurant of this caliber during a pandemic. It would have been impossible to achieve this level of execution and success without each of the team members that joined us, more importantly that trusted us. A few miles south of Barry's lies the Las Vegas Strip with hundreds of great restaurants, yet they decided to stay with us and be a part of this opening and journey in Downtown Las Vegas. They took a risk with us and we will forever be grateful for that, forever."
He continued, "I'm also extremely proud of the fact that we were finally able to put our mark/stamp on a concept that we not only believe in, but are extremely passionate about.  Every menu item, every custom plate/serving vessel, every song on the playlist etc. was thought of in a little office downtown and seeing all that come to life and have this much success is humbling and rewarding."
---
What to eat! Chef Barry's must-have menu items.
APPS:
Chilled Shellfish, Onion Soup, Garbage Salad
ENTREES:
Lamb, Dover Sole, Rib Cap, Tomahawk Steak
SIDES:
Potato Gnocchi, Crispy cauliflower, George's Cream Corn
DESSERTS:
Oreo Cookie Ice Cream Pie
---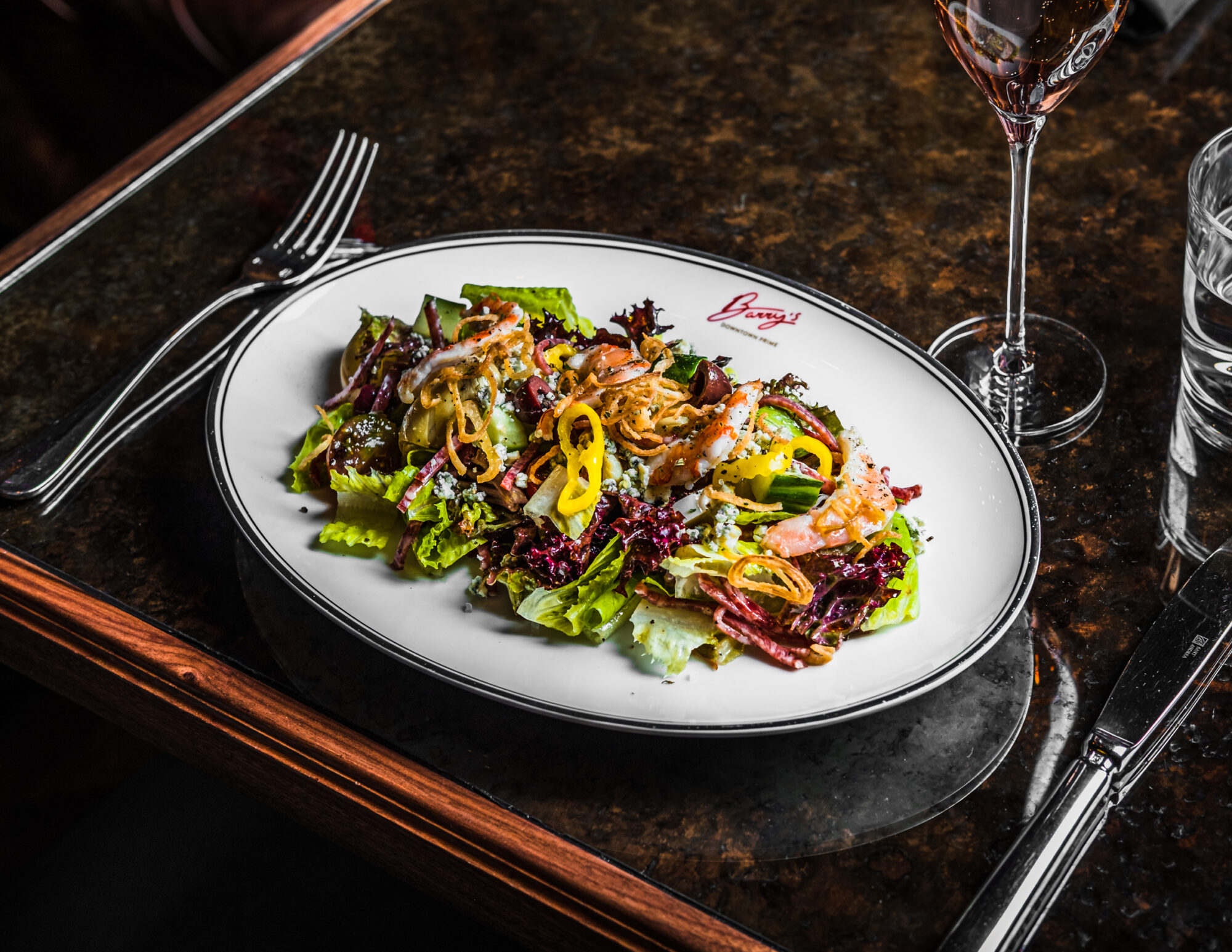 ---
To see more of the top dishes, follow the restaurant on Instagram @barrysprime
---