We all know that the human body often has the ability to heal itself. Be it a scrape or bruise, a virus or infection, broken bones, or even an illness that mysteriously disappears. These automatic auto-immune responses are proof of nature's intelligence and resilience, but sometimes they just need a little boost. That's where Dynamic Stem Cell Therapy comes in.
Our reality is that the body's regenerative powers begin to slow down as we age and can require a "boost" of healthy live cells to assist the healing process. 
At Dynamic Stem Cell Therapy, Mr. Blake Youmans and his highly skilled Team of Doctors and Clinicians specialize in treating the root cause of illness and injury with State-Of-The-Art stem cell procedures. Utilizing this organic approach they are able to potentially restore healthy function and homeostasis, without the use of pharmaceuticals or surgery, by incorporating traditional medicine with "evidence-based "integrative medicine". 
Mr. Youmans is passionate about returning a state of well-being to patients. Over the past 6 years, many people; including civil servants, athletes, professionals, and celebrities have experienced the healing powers and benefits provided at Dynamic Stem Cell Therapy.
As CEO, Blake continues to grow the business in loving memory of his mother, Dr. Simong Youmans, M.D who pioneered the groundbreaking stem cell therapy techniques his clinicians rely on today.
Blake shares, "My mother practiced as an Emergency Medicine Physician in Las Vegas and some of the busiest emergency rooms in the country for over 17 years. By 2007 she was convinced that there was a better way for patients to survive and heal, other than relying solely on the realm of traditional reactive medicine, she aligned her focus and devotion to science and humanity on discovering and practicing the art of preventative medicine."
Along with Blake, a trained EMT paramedic, she opened her own office in Las Vegas. They utilized hormonal therapies that stimulate the body's natural response to heal itself. Both the business and hormonal therapies were quite successful. 
Dr. Youmans had always believed in stem cells but didn't think the technology was proven until FDA-compliant methods became available in 2014. This is when she opened a Las Vegas stem cell therapy clinic with Blake at her side. They focused on providing highly effective procedures and were again successful. 
Sadly, Dr. Youmans succumbed to cancer in 2016. But her dream lived on! Blake hired a new medical director (Dr. Dale Carrison, D.O) and retained all the clinical medical staff. Dynamic Stem Cell Therapy has since built an outstanding reputation as one of the leading regenerative medical clinics in the country. 
They are proud to hold themselves accountable to the highest ethical standards and treat each patient with the utmost respect and care as they sincerely appreciate the opportunity to make a positive and lasting impact.
---
View this profile on Instagram
---
There is such a high rate of success when stimulating the body's natural healing response, that the majority of patients only need one procedure to experience relief and the results can last for 10 years or more per the current science.
They witness their healing journey up close and personal without the need for prescription medications and with no danger of unwanted side effects. The idea of stem cell therapy as an alternative option to surgeries, joint replacements, and prescription medications may sound too good to be true. 
In current-day western society "reactive" medicine is predominant and treating patients' symptoms is how a majority of doctors tend to "practice" medicine. Prescription drugs are given and presented as the only real options in healthcare today. Treating the root cause is, and always should be the goal of all healthcare-prescribing physicians. Stem cells can help a person to heal the root cause of their disease and/or injury and are inherently naturally programmed by the body to do so. 
As Integrative medicine has become more understood and appreciated in medicine today, biohacking with stem cell therapy has been researched, and tested and has finally become available.
Stem Cell Therapy has also been proven to aid in the regeneration and potential healing of cartilage, cells, tissue, organs, and muscle. Many diseases and various other conditions, ranging from mild to chronic have been treated successfully.
---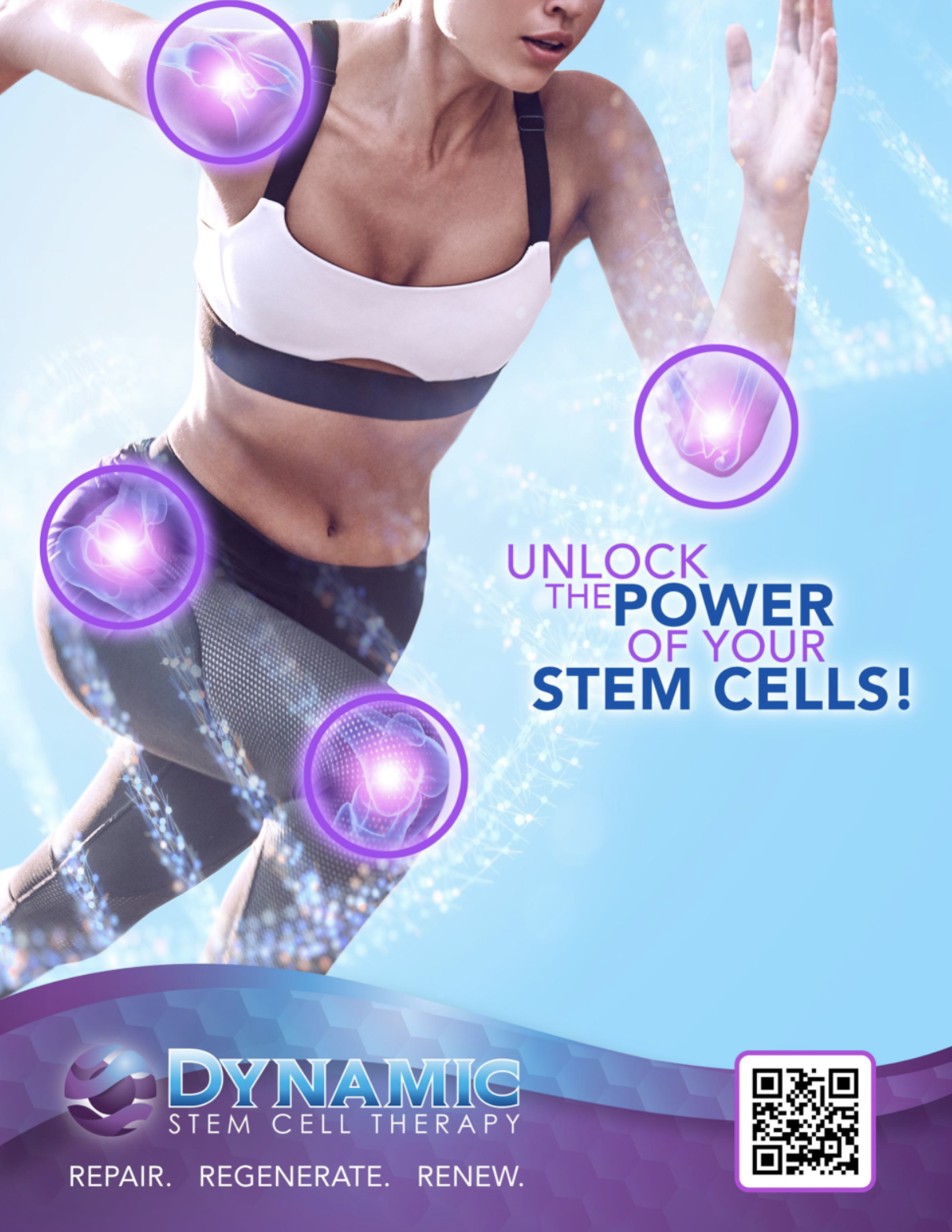 ---
For screening and safety purposes all potential patients require "gold star" testing and evaluation. An MRI or CT scan may be needed to diagnose and pinpoint the root cause of the pain and discomfort.
The goal is to create a treatment plan designed to give the patient the best possible outcome so that long-term quality of life can be maintained and improved. 
Once a patient receives stem cell therapy, the treatment is followed by a six-week protocol of doctors' orders to avoid strenuous activity and dieting that could cause the onset of unnecessary inflammation and further injury. A patient is expected to become fully healed, pain-free, and have more strength and stability within a 12-week post-op window. If the patient's success rate is not 85% or better, Dynamic Stem Cell Therapy offers complimentary PRP (Platelet-Rich Plasma) treatment, to expedite positive results, by incorporating the patient's own blood plasma. 
To Blake Youmans, restoring wellness and a hopeful spirit within patients is personally an incredibly satisfying endeavor. He is very grateful to be able to continue his mother's legacy of healing. 
Blake expresses, "My mother told me that she believed stem cell therapy was the best way to help the greatest amount of people. She felt that performing this kind of evidence-based medicine is why God put her on this earth."
And he is set on seeing this belief to fruition and expanding his business to many other states in need of quality of-life care. 
With an impressive portfolio of client successes and reviews that rave about the care received, Dynamic Stem Cell Therapy LLC is a manifestation of his mother's hopes, dreams, and true intentions.
Visit stemcellpowernow.com for more information.
---