Located inside The Cosmopolitan, STITCHED is the Strip's go-to menswear hotspot. Since opening in 2010, STITCHED has become an international lifestyle destination for the subtly irreverent, yet sophisticated gentleman.
STITCHED provides world-class custom suiting and trend-setting street and athleisure wear, giving it a unique position in the clothing industry. Each season STITCHED releases an exclusive, ready-to-wear XXXX collection while serving as a retailer of other renowned brands such as Tom Ford, Gucci, Dior Homme, Saint Laurent, Balenciaga, and Givenchy. With a British-style haberdashery aesthetic, juxtaposed against the bright, shiny chandelier-clad Cosmopolitan, STITCHED is both rugged and refined. Its Scotch Locker Lounge, where clients gather to celebrate and dream building, overlooks the strip and has helped set the bar for experiential retail.
"Clients come to us for styling, wardrobing, in-house alterations, or sometimes just for a stiff drink. We're serious about clothing, but never take ourselves too seriously," says Sam Glaser, Operating Partner and Chief Operating Officer. 
With the help of its massive network of clients and community support, STITCHED has been awarded Best Men's Store in Las Vegas every year since 2010. STITCHED works with some of the biggest sports stars in the NFL, MLB, NBA, NHL, MLS, and Nascar. Its most notable projects are The Yankees Monument Park Blazer for the 32 Living Legends and the Monday Night Football 50th Anniversary. STITCHED has also become a destination for entertainers – from red carpets to sold-out arena shows.
---
As Seen On The Summer 2022 Cover Of  Deluxe Version Magazine.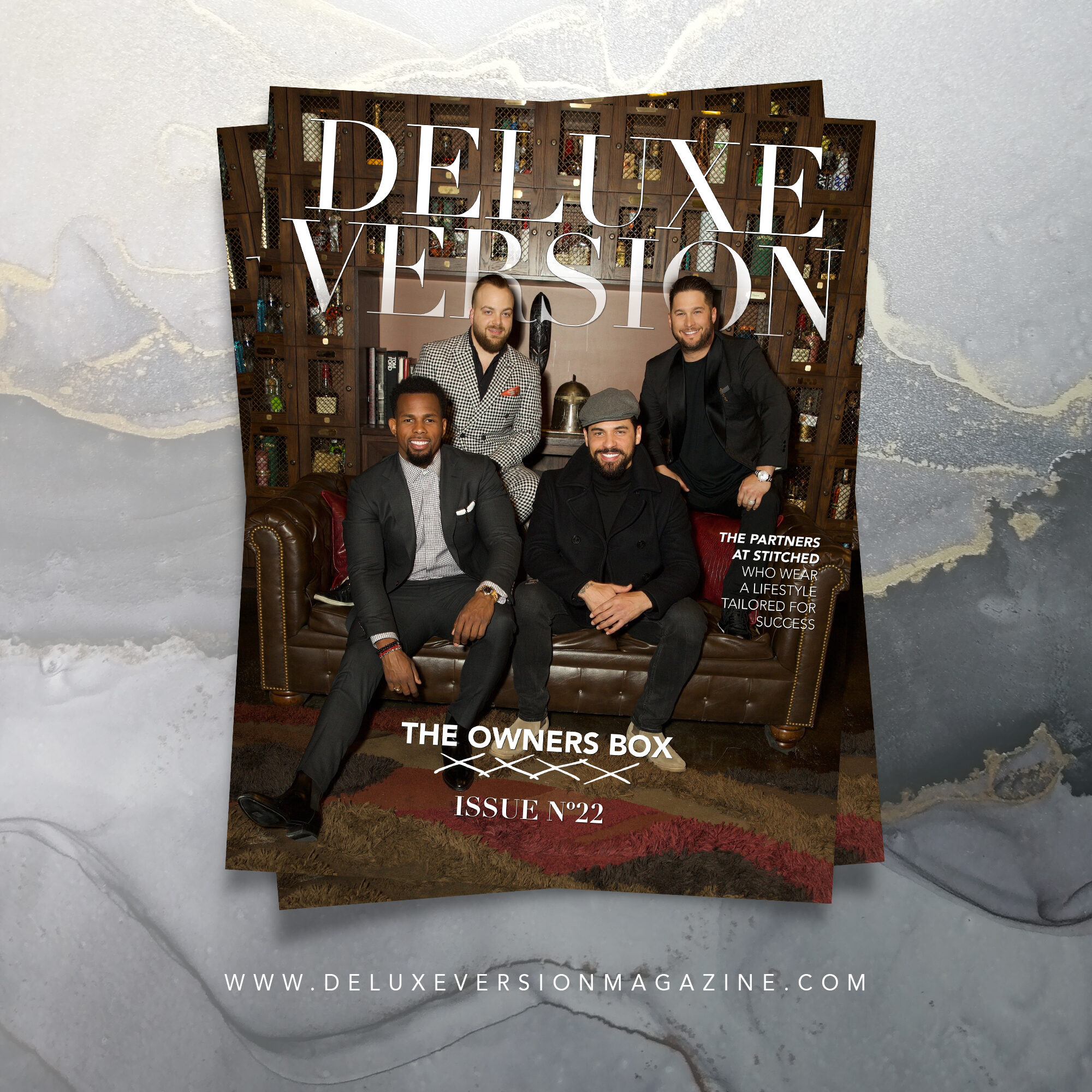 ---
The STITCHED team's greatest passion is its commitment to the local Las Vegas community, having donated over $1 million to more than 100 charities and community organizations. It also gives out suit packages, hosts fundraisers, and provides academic and athletic scholarships. Just last year, two STITCHED special events helped raise over $115,000 for UNLV and St. Jude Children's Hospital.
STITCHED has recently elevated three of its main contributors, Sam Glaser, Jason "J Roc" Craig, and Jai Shaun White, to full partners.
"At the end of our first ten years, we recognized the ambassadors and executive leadership that had tenure. The Day 1's. Grateful for their  commitment and unwavering loyalty, we opened up our owners box and allowed Sam, J Roc and Jai Shaun to invest. With a fresh ten year lease in hand, we expect nothing short of continuity & irreverence with these three owning their seat in the suite of excitement," says Eamon Springall, STITCHED Founder and President.
Sam Glaser has been with STITCHED from the beginning. He broke the story of STITCHED opening in 2010, came aboard as buyer in 2013, rose through the ranks to Vice President, and ultimately became Operating Partner and COO. Sam leads the day-to-day operations, personnel, and merchandise strategy.
J Roc is one of the top marketing minds in Las Vegas, and has had his hands in some of the most successful entertainment projects in Las Vegas and Southern California over the past two decades. He was the first STITCHED brand ambassador and remains an important celebrity liaison.
"What a journey we've had with STITCHED! Seeing the brand grow since its inception is something I have taken much pride in. From a very young age I saw my dad wear tailored suits to work and special occasions. I always thought 'I want to be dapper like Pops one day'. Now I'm able to help create that male bonding experience, whether it's for a big event, a key moment in life, or just looking fresh for the night. I always knew I wanted to do more with the STITCHED brand and had aspirations of sitting at the owner's table one day. Along the way I've made lifelong friendships with my partners while helping grow the brand, and I take pride in that as well. I look forward to what the future holds for us and XXXX," says J Roc.

---

---
Jai Shaun White is one of the top executives at the Wynn Resort and travels to some of the world's preeminent events. He has become a go-to resource for celebrities and high-rollers visiting Las Vegas. Jai Shaun is also an entrepreneur, with a number of food and beverage projects in his portfolio.
"After being affiliated with STITCHED for so many years, it feels like family. Honestly it has since day one. Eamon and Sam and the rest of the team's attention to detail makes it so easy to walk out of the store looking and feeling like a million bucks. For me it was a natural fit. I am honored and humbled to become a partner with STITCHED and help elevate the brand to even further heights," says Jai Shaun.
J Roc and Jai Shaun will continue to be the driving force behind brand visibility, client development, and marketing strategy for STITCHED in the years to come.
STITCHED has several opportunities to expand its brand to major cities across the United States and internationally. It has also expanded into women's custom clothing, with a number of offerings that include blazers, pants, shirts, and skirts. With plans to build out a new sub-brand, XXXX Sport, STITCHED will be further developing the athleisure category it helped pioneer over the past decade.
In need of a perfect fit? Treat yourself to the hand-STITCHED experience.
---