Elena Bulatova is a world-renowned artist, art dealer, and gallerist specializing in abstract painting and sculpture.
Originally from Russia, she founded Elena Bulatova Fine Art with her husband and fellow artist, Efi Meshiah, just over ten years ago in Palm Springs, California. Since then, Elena Bulatova Fine Art has gained a global reputation for its cutting-edge artwork and innovations, opening two more award-winning galleries in Las Vegas and Miami.
The eclectic entrepreneur was kind enough to provide us with some insight into her creative and colorful world.
What was your introduction to art?
My introduction to art was through my parents, who were both very interested in the arts. They would often take me to museums and galleries, and I was exposed to different styles and mediums at a young age. I loved the experience of seeing different artwork and being able to appreciate their beauty and creativity.
Who is your biggest artistic inspiration?
There are many artists who inspire me, but if I had to choose just a few, I would say Jeff Koons, Damien Hirst, Yayoi Kusama, and Takashi Murakami. I am drawn to their innovative use of materials and their ability to create works that are both thought-provoking and visually stunning. I also have a great appreciation for female abstract expressionists such as Joan Mitchell and Helen Frankenthaler, whose bold and expressive paintings continue to inspire me.
---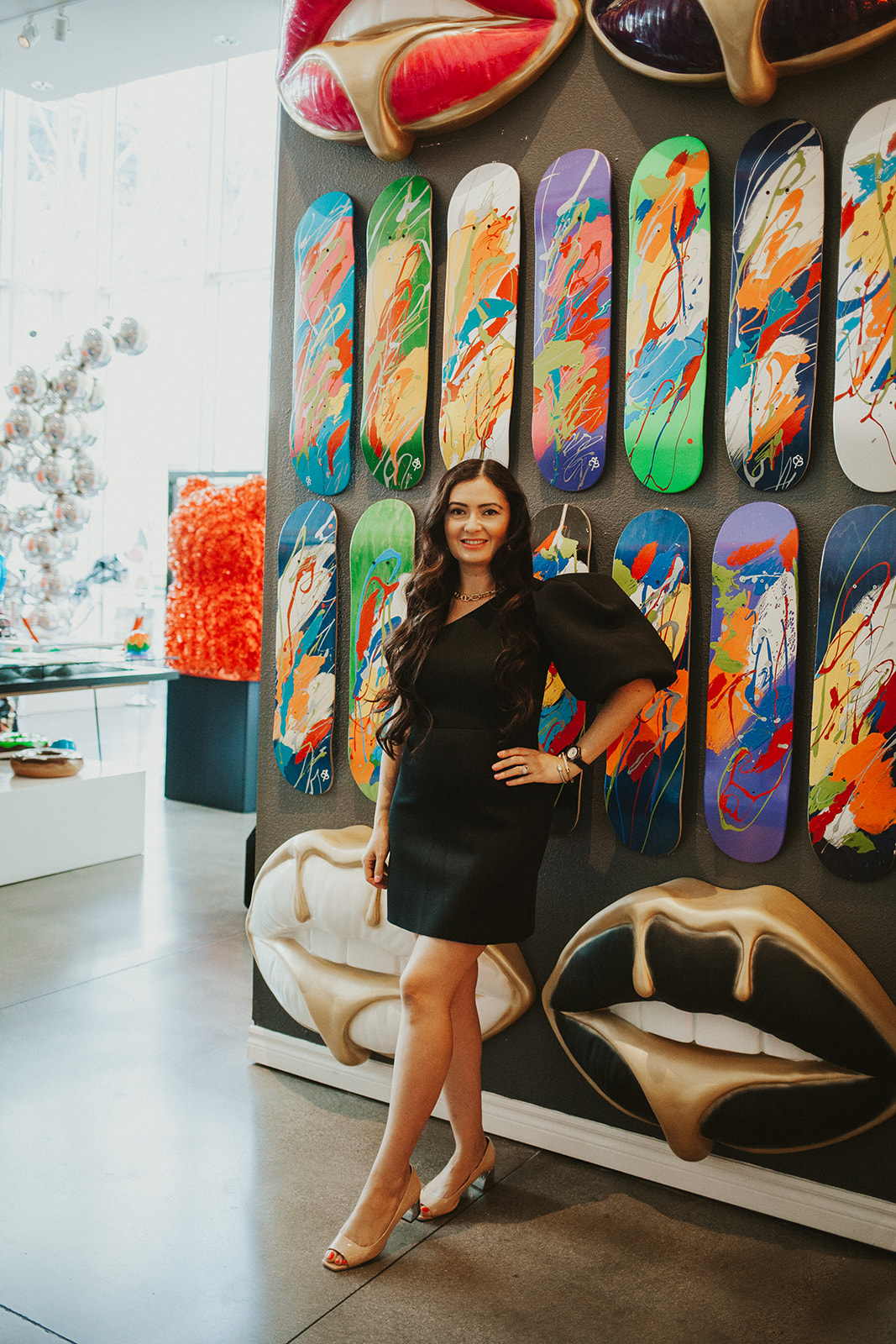 ---
How would you describe your approach to making art?
My approach to making art is very intuitive. I love to experiment with different materials and techniques, and I let the process guide me. I don't usually have a specific plan or composition in mind when I start a piece – I just let the painting develop organically. I enjoy the journey of creating and the surprises that come along the way.
What do you enjoy most about commercial and industrial art projects?
I enjoy the collaboration. It's exciting to work with other designers to create something that's not just beautiful, but also functional. I also enjoy the interior design aspect. As an artist, I have a keen eye for how different artworks can enhance and transform a space. Working with builders and interior designers to curate art collections for homes, offices, or public spaces is a unique opportunity to make a meaningful impact on people's daily lives. Seeing how my artwork can help elevate the overall aesthetic of a space and make it more beautiful and inviting is very rewarding. Creating art for commercial or industrial spaces can also help sell properties faster, as the artwork can add a unique and personalized touch to the space that potential buyers will remember and appreciate.
Tell us about your YouTube channel.
My YouTube channel @elenabulatovafineart is a way for me to connect with a wider audience and share my artistic process with others. As an artist with galleries in different states (California, Nevada, and Florida) which ship art all over the world (Australia, Asia, and Europe) I am unable to meet every one of our collectors in person. The channel allows me to share my vision, talk about our latest pieces, and discuss art trends. I post videos of my creative process, including time-lapse videos of my paintings, and I love interacting with my subscribers and answering their questions. It's a way to engage with my audience and build a community around my art.
I am also excited to work with producers of Netflix shows and other Hollywood productions where our art is showcased regularly. It's a thrill to see my artwork featured in popular TV shows and movies, and it's a testament to the quality of our pieces. It's a great opportunity to showcase our artwork to a wider audience and to collaborate with talented individuals in the entertainment industry.
What is your greatest passion aside from art?
Philanthropy. I believe in using my platform as an artist to make a positive impact in my community and beyond. Recently, I became an ambassador in the campaign for the American Cancer Society called Power in Purple. As an ambassador, I was seeking to increase awareness and secure donations for The American Cancer Society. I have also donated my artwork to auctions for multiple organizations such as St. Jude, Make-A-Wish Foundation, Heart of Education honoring Nevada teachers, Nevada Ballet, and many more. Giving back and using my art for a good cause is a deeply fulfilling experience, and I plan to continue to use my platform to make a positive impact in the world.
How do you see art evolving over the next ten years?
I think art will continue to evolve in exciting ways over the next ten years. Digital art and virtual reality are already pushing the boundaries of what's possible, and I think we'll see even more innovation in these areas. I also believe that traditional art forms will always have a place in the world. I think there will be a growing appreciation for handmade and artisanal pieces, as people seek out unique and meaningful works. I also believe that art will continue to be a powerful tool for social change and activism, as artists use their work to address important issues and spark meaningful conversations.
---
For more information visit elenabulatovafineart.com | YouTube and Instagram @elenabulatovafineart
---