Finding peace in a pandemic with a plan, a pen, and my palate.
There was nothing more relaxing and soul-replenishing than my recent road trip to the heart of California's wine country—from the palate-pleasing pinot of Paso Robles to the breathtaking beaches of Carmel-by-the-Sea—but the much-needed escape from reality almost didn't happen.
I'd never been that person to second-guess a decision to hit the road; but with this trip, I came thiiiiis close to canceling. Because, 2020.
As most people have experienced in one way or another, maintaining normalcy in the age of COVID-19 is no easy feat. Under typical circumstances, a summer getaway along the Golden State's Central Coast would've been a no-brainer. (Not to mention, this opportunity would have me tagging along with food, wine, and travel journalists Elaine and Scott Harris of Cuisineist.com, a top-100 travel website featuring hundreds of articles and videos from the husband-and-wife sommelier's globetrotting adventures.)
But with a legitimate concern over catching coronavirus, our safety and well-being were of utmost importance.
Luckily, at the time, California had just prohibited indoor dining in counties we would be visiting (which would automatically ensure we'd be eating outdoors at all times) and before and upon our arrival, our innkeepers guaranteed a strict pandemic protocol during our stay.
Taking those facts into consideration, we stocked up on masks and sanitizer; memorized social distancing guidelines, and ultimately decided to clear out (in separate cars) to California. Uncertain times call for uncertain measures, but looking back, I am so grateful I did.
---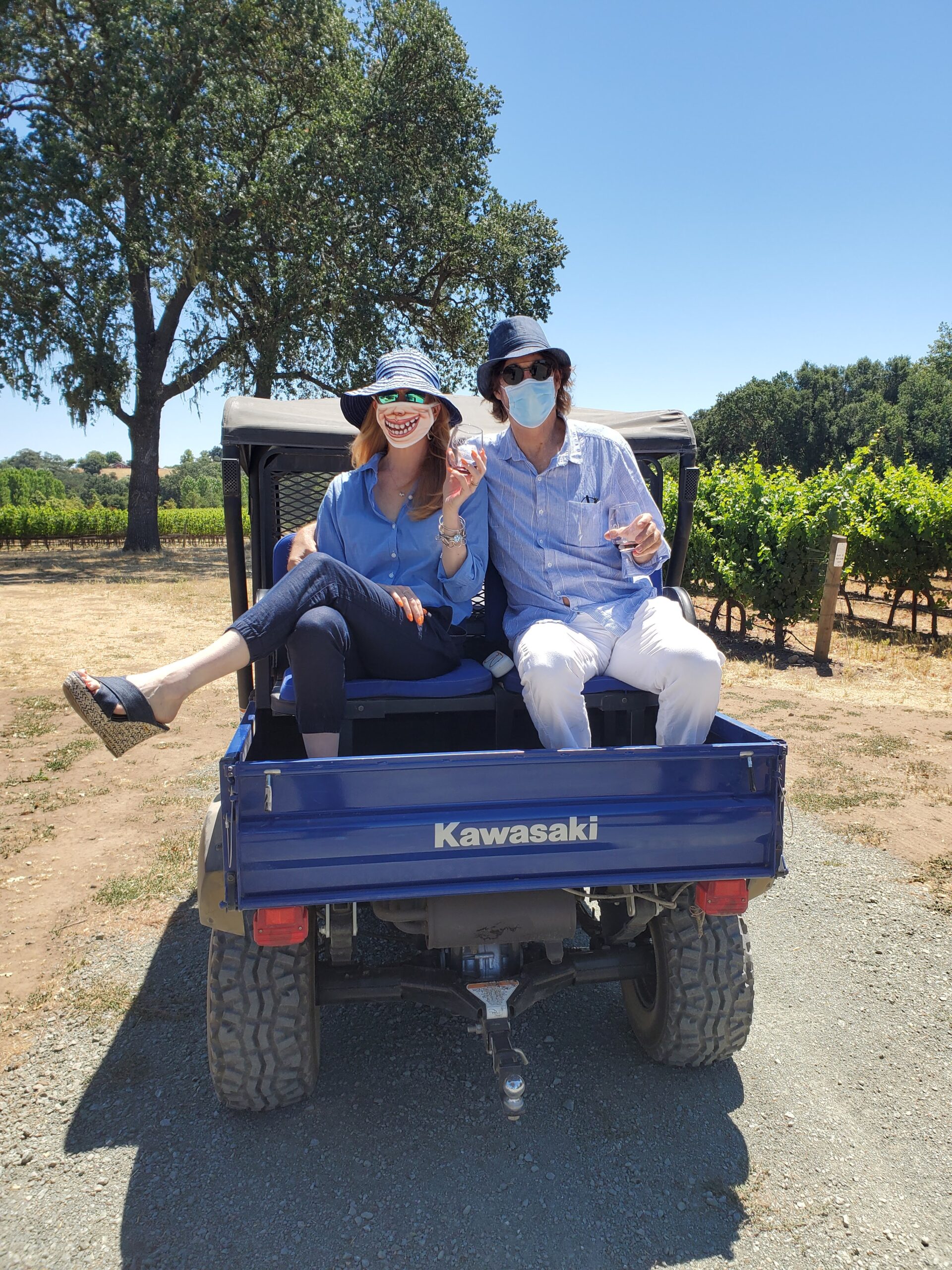 ---
HOW TO WINE
The minute (actually, the second) we arrived in Paso Robles, our first stop was atop DAOU Mountain, a gorgeous winery famous for its exquisite cabernet sauvignon. Sitting 2,200 feet above the city and overlooking the entire Adelaida District, the tasting room was closed due to COVID, but with a view that extraordinary, there was no better way to experience DAOU than outside.
This property is widely considered Paso Robles' "birthplace of modern winemaking." Now, proprietors—and brothers—Daniel and Georges Daou continue to challenge themselves to produce a Bordeaux-style cabernet they say will "rival the greatest." They are succeeding; and, their culinary choices were perfectly paired (do not leave the mountaintop before trying the Vegan Fregula and Onyx Mezze)! Trust me. Hands-down, DAOU is a two-fold tasting adventure.
From the mountain to the vineyard, Onx Wines offered our foursome a wine flight-filled adventure…on foot (with a little help from a Kawasaki "mule!"). A blend of adventure with time-honored winemaking tradition is at the heart of the Olson family's cuvée blends at Onx, a 127-acre estate property located in the shotgun of the Templeton Gap, and home to complex soils, vast views, perfect wine growing temperatures, and outdoor tasting areas! Our tasting visit began in the open-air "tractor shed" and continued to five beautiful "Oases" found throughout the vineyard, an option perfectly suited to the new normal of six-feet-separation.
---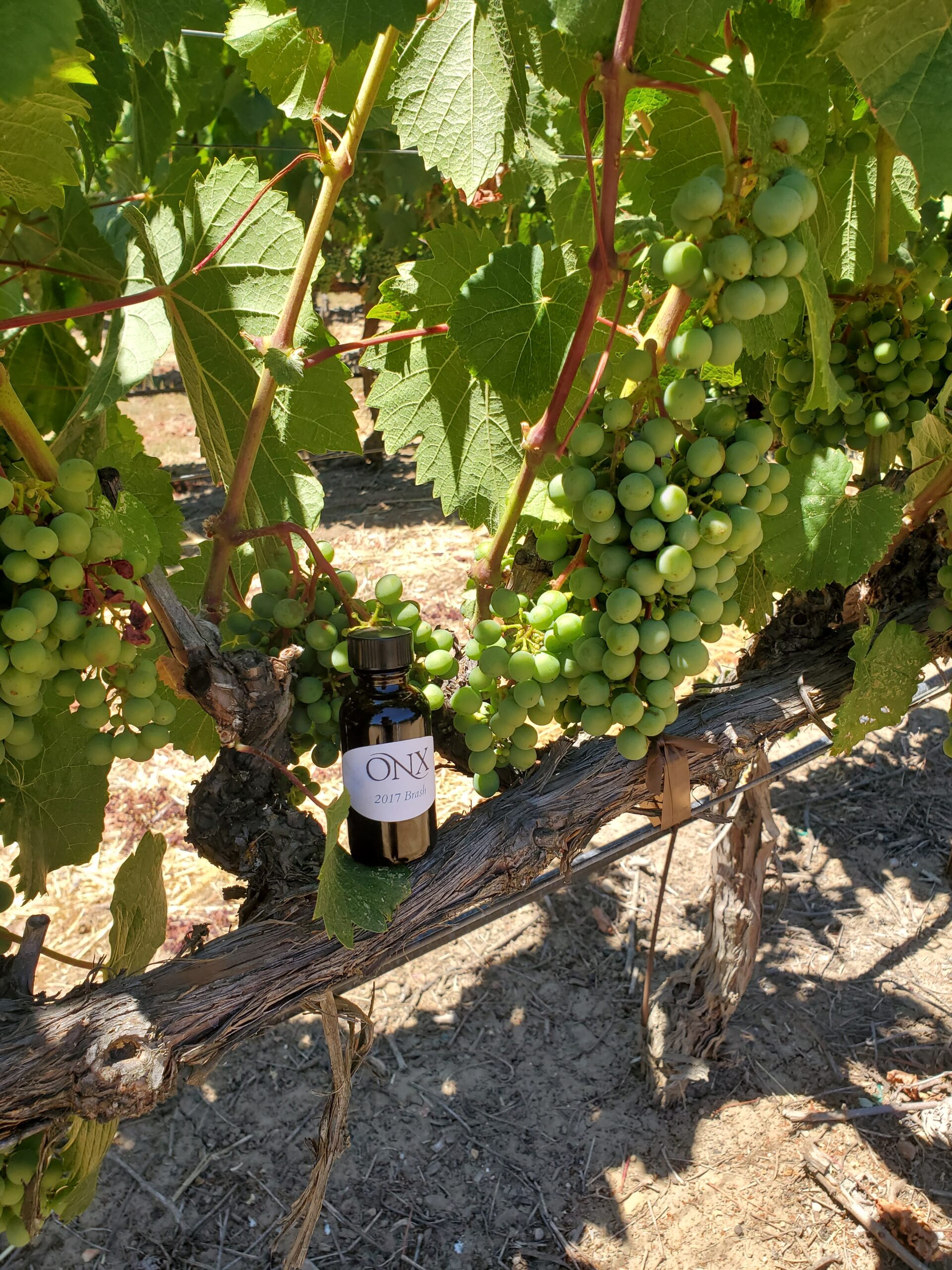 ---
Jeff Strekas, the director of operations and winegrowing, also showed us the vineyard's innovative way of drinking-while-social distancing called "Onx-at-Home." Tasters can now enjoy Onx wines in fun-sized vials either on location or via its Private Virtual Tasting Experience. Needless to say, he had me at fun-sized—but I left with two full-sized (Indie Rosé, my favorite!). Paso Robles is definitely "where wine takes you" and I can't wait to return.
Our al fresco tasting tour continued up the Pacific coast to Carmel-By-the-Sea, the second leg of the trip. We couldn't pass up a chance to visit Dawn's Dream Winery, home to Dawn Galante's award-winning pinots and rosés (and, the most Instagrammable wine tub ever!). The married mom of five saw her dreams of making "approachable wines with exceptional quality" and giving back to her community come true. Her rosé was voted "Best of Monterey" 5 years running, and she has raised sizable donations for several non-profits supporting women and children.
---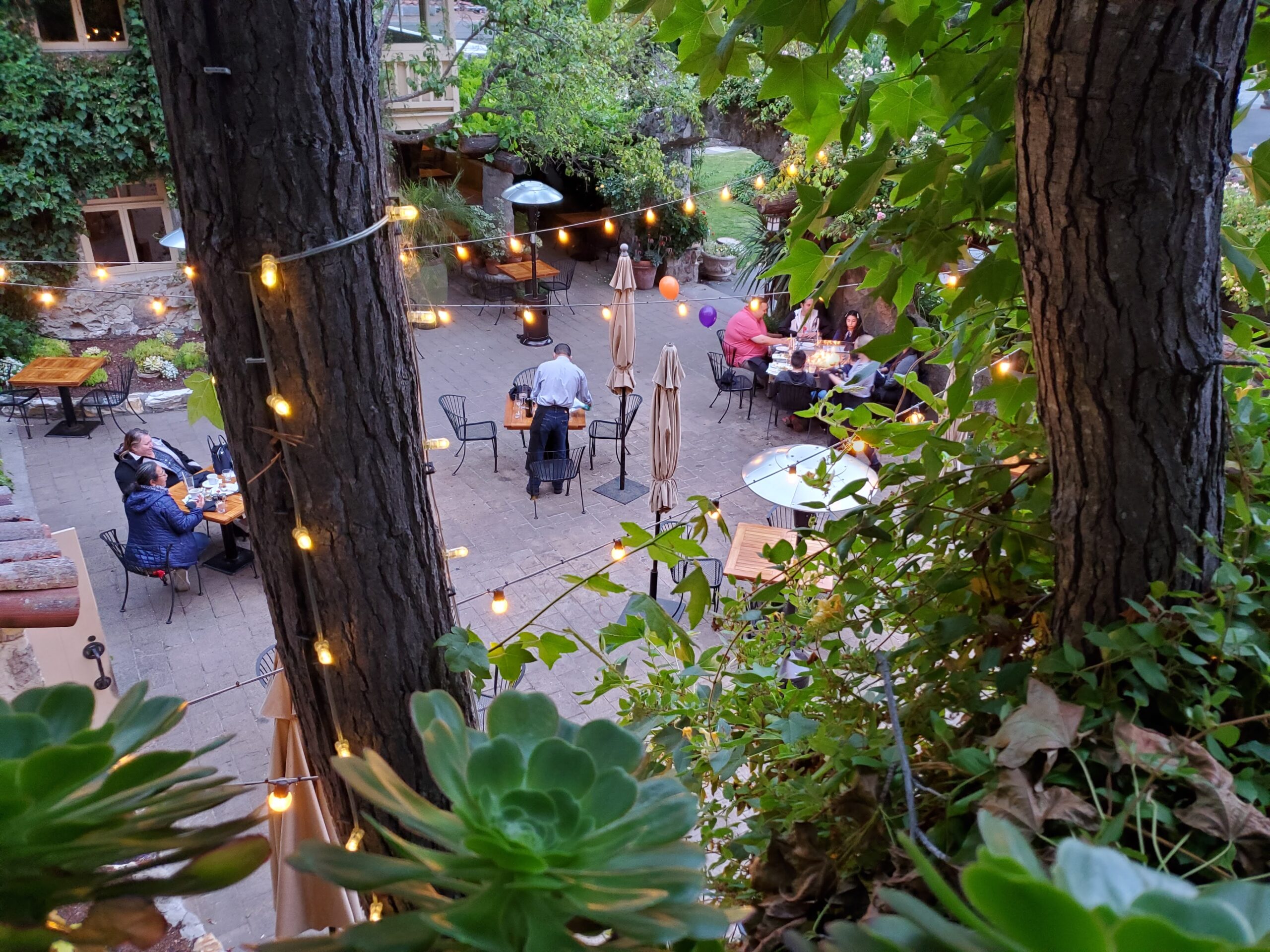 ---
Dawn's husband, Jack Galante, and Otter Cove winemaker Richard Oh—both Carmel royalty—were our gracious hosts for the afternoon (one of many perks when you travel with experts!) The Galante Family has a long history in the area: Jack's great grandfather, J. Frank Devendorf, discovered Carmel Beach, and together with his partner Frank Powers, created the town of Carmel in 1902. Turns out our last stop was in the courtyard of Carmel's first tasting room: Galante Vineyards and Western Emporium. Galante is synonymous with fine cabs, merlots, pinots, and Sauvignon Blanc, and after a few (read: several) sips, I understand why they reign supreme. (Oh, if you missed the wine tub, be sure to check out the leather cowboy boot chair!)
HOW TO DINE
With a wide range of dining choices in and around Paso Robles' downtown square, we started the gastronomic portion of our getaway on the elegant back patio of Thomas Hill Organics, deemed one of the city's best restaurants. This farm-to-table concept is dedicated to organic, locally sourced food options and unique Central Coast wines. Lucky for us, we washed down our sea bass and vegetarian Buddha Bowl with a superb 2011 Tudor Wines Pinot Noir, hand delivered by Dan Tudor himself. (Thank you, Dan!)
In keeping with the COVID-conscious theme, we ate on the patio of Cello Ristorante & Bar at Allegretto Vineyard Resort by Ayres, a 5-year-old hotel resort/spa that has added a refined element to Paso's profile. The Mediterranean-inspired restaurant offers a Northern Italian menu by Chef de Cuisine Benjamin Drahos. The upscale yet casual feel made us feel right at home while devouring spring pea pasta, pan-seared salmon, and Allegretto's own home-grown rosé. To cap off the exceptional meal, we took a beautiful stroll through the manicured gardens, Tuscan architecture, and art-lined hallways of the 20-acre estate. (I plan to return someday for the complete Allegretto experience!)
---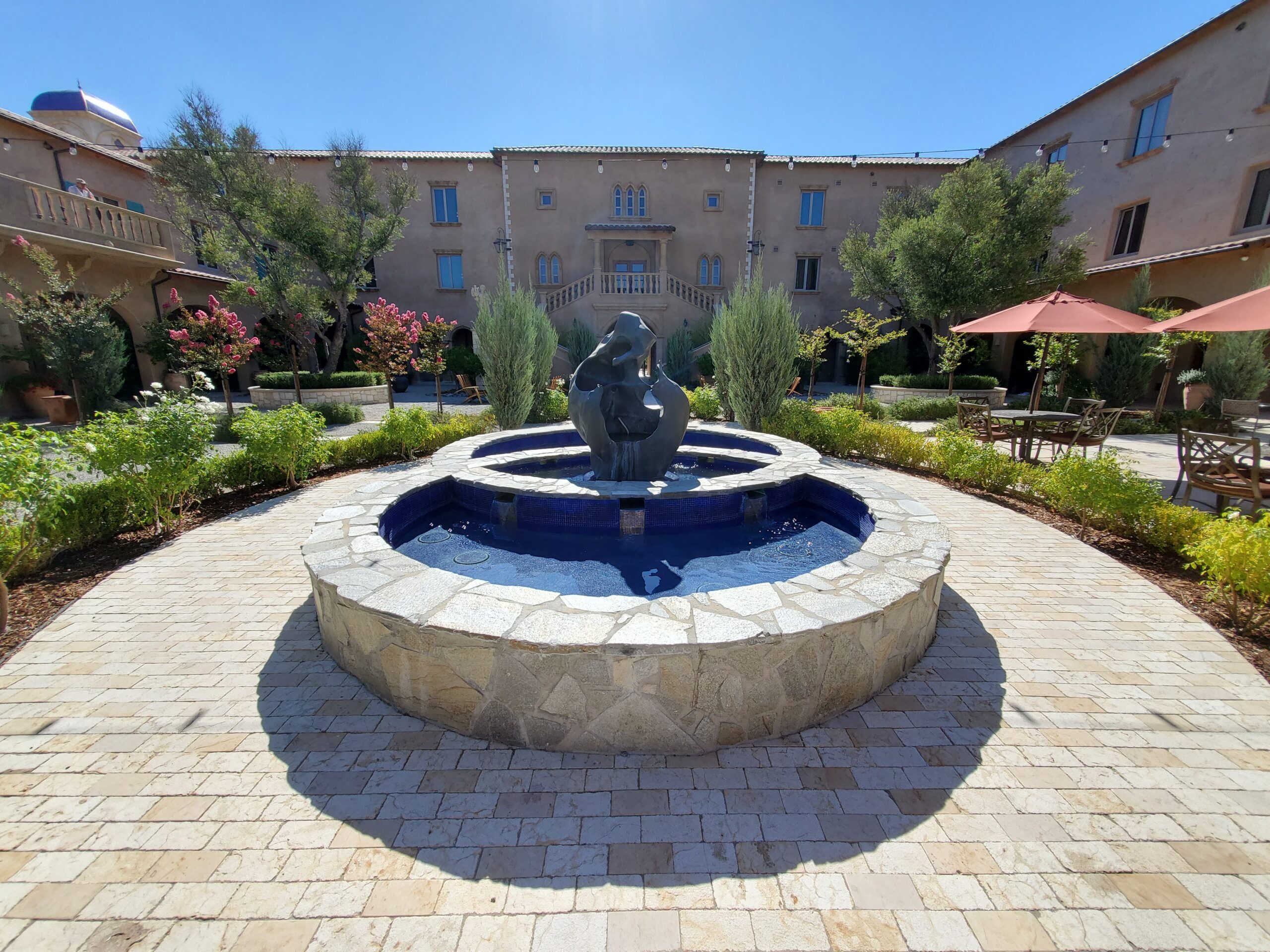 ---
Once in Carmel, we opted for alternative fare just off the beaten path. If you have a fondness for fondue like us, it's "hip to dip" at Lugano Swiss Bistro, an authentic eatery that serves up Switzerland, with a side of France and Germany. Seated outside in the biergarten, we satisfied our fondue fix with cheese and, of course, Swiss chocolate. But I won't soon forget my first experience with a Swiss puff pastry pastetli (all mushrooms!), and an order of original Swiss Raclette cheese. Yodel-ay-hee-hoo. Proscht!
Looking for casual cuisine on our last night in Cali, we ventured out to nearby Monterey for a halcyon happy hour—and history lesson—at popular steakhouse Tarpy's Roadhouse, one-third of the area's well-known trio of hot spots including Montrio Bistro and Rio Grill. The rustic stone building and courtyard was built in 1917 on three-plus acres, and thanks to an exclusive tour from new owners Ken and Mona Donkersloot (who took over the restaurant group during the pandemic), we learned about the beautiful property and Matt Tarpy, the celebrated vigilante for whom the restaurant got its name. It was perfectly picturesque and an enlightening end to our culinary roundup.
HOW TO RECLINE
The suites at La Quinta Inn & Suites by Wyndham Paso Robles were luxurious yet affordable and well-suited as "headquarters" for our two-night stay.
The newly redesigned property is right off Route 46, just minutes from downtown, the wineries and Highway 101. Our timing was impeccable, too, because La Quinta is just four minutes from the art installation Bruce Munro: Field of Light at Sensorio, a 15-acre, solar-powered exhibition of 58,800 stemmed fiber-optic spheres that gently illuminate the landscape. With limited attendance allowed and safety measures installed, this was just the kind of outdoor attraction for social distancing purposes in the age of COVID-19. It has been extended through January 2021, and it is not to be missed.
---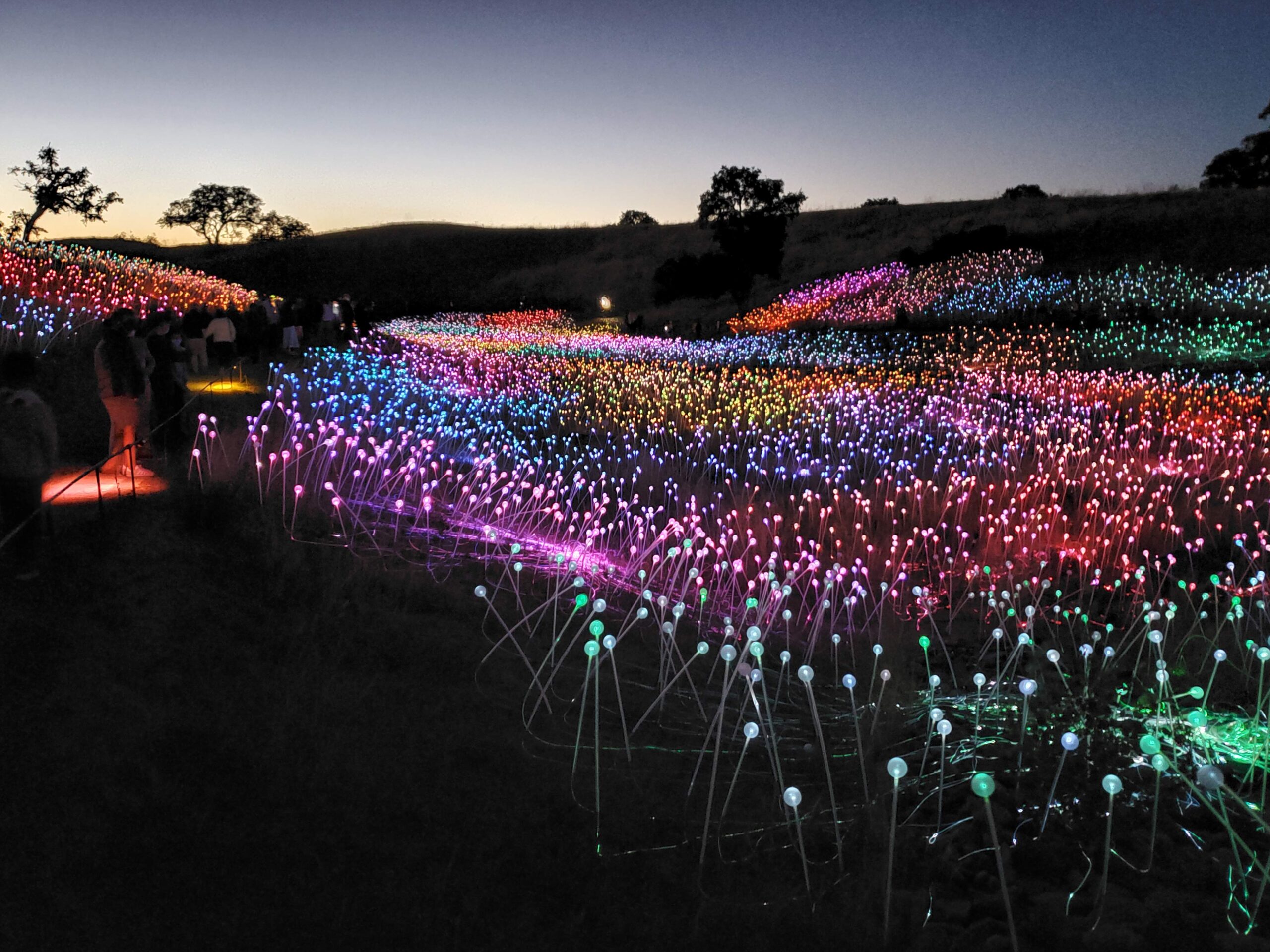 ---
Finally, there was no better way to enjoy Carmel-by-the-Sea than with a stay at the pretty-in-pink Hofsas House. Founded by the Theis family over seven decades ago, this Bavarian-inspired 38-room charmer is within walking distance to everything the beautiful beachside village has to offer (especially the 5th Avenue Deli, where we stocked up on essentials for our hike at Point Lobos—easily the best hike I've ever done!) It's a European retreat where the attention to your personal needs—and safety—can't be beaten. I already miss those Dutch doors.
For more travel adventures with Elaine and Scott Harris,
visit www.cuisineist.com.
---