A UFC Ring Girl's Baby Steps Toward Motherhood
– By Stacey Gualandi
When it comes to striking her signature pose, spokesmodel Arianny Celeste isn't going to let a little pregnancy get in the way.
"I still like my bikini, so I'm not going to hide the bump. I'm proud of the bump," Celeste says. "I always joke: I'm going to be in my bikini until I'm 95."
The popular UFC "ring girl" is making a shift from girlhood to motherhood, now that she is 8 months pregnant with her first child. In late June, she and her boyfriend of a year, model/actor Taylor King, announced to her faithful followers (3 million and counting!) that their baby boy will arrive in September.
---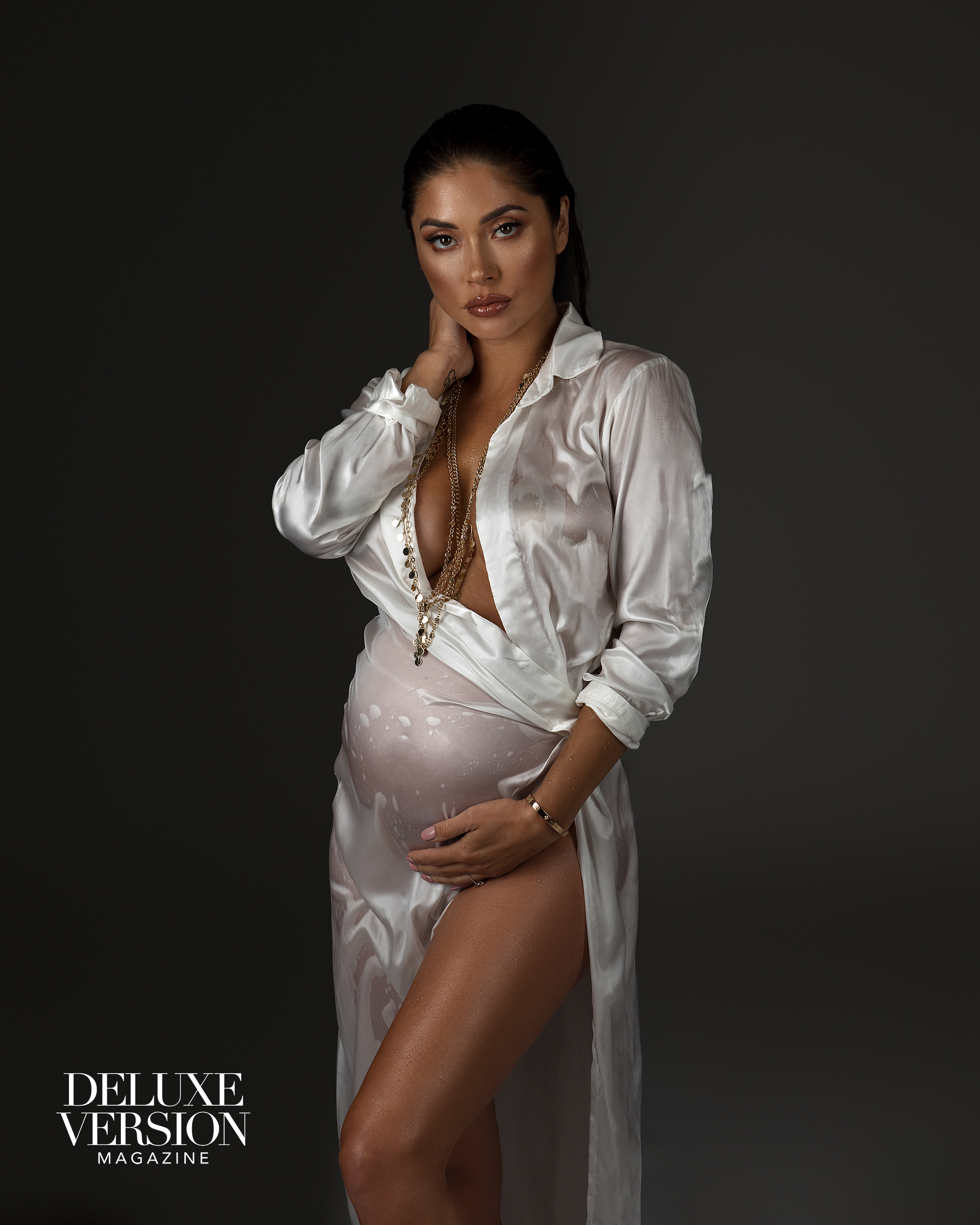 ---
"We actually had a 3-D scan of the baby and he looked just like Taylor…literally a little mini-me," Arianny jokes. 
The 34-year-old Mexican model-turned-mom says she's always wanted to have children, but admits her maternal instincts didn't quite kick in immediately.
"I don't want to say I'm a control freak, but I like to control aspects of my life; I like to know what's happening. I don't like change too much, so this was very scary at the beginning."
Now as she prepares for her due date, Arianny is researching everything on pregnancy; relocating to her hometown of Las Vegas (to be closer to her son's elated grandmother!); and relaunching her business Girlfriend Box, personalized jewelry gift boxes sent automatically to your girlfriend on all the big days.
I caught up with Deluxe Version Magazine's favorite ring girl to talk about her growing pains, her pregnancy role model, and how she stays positive in a pandemic.
---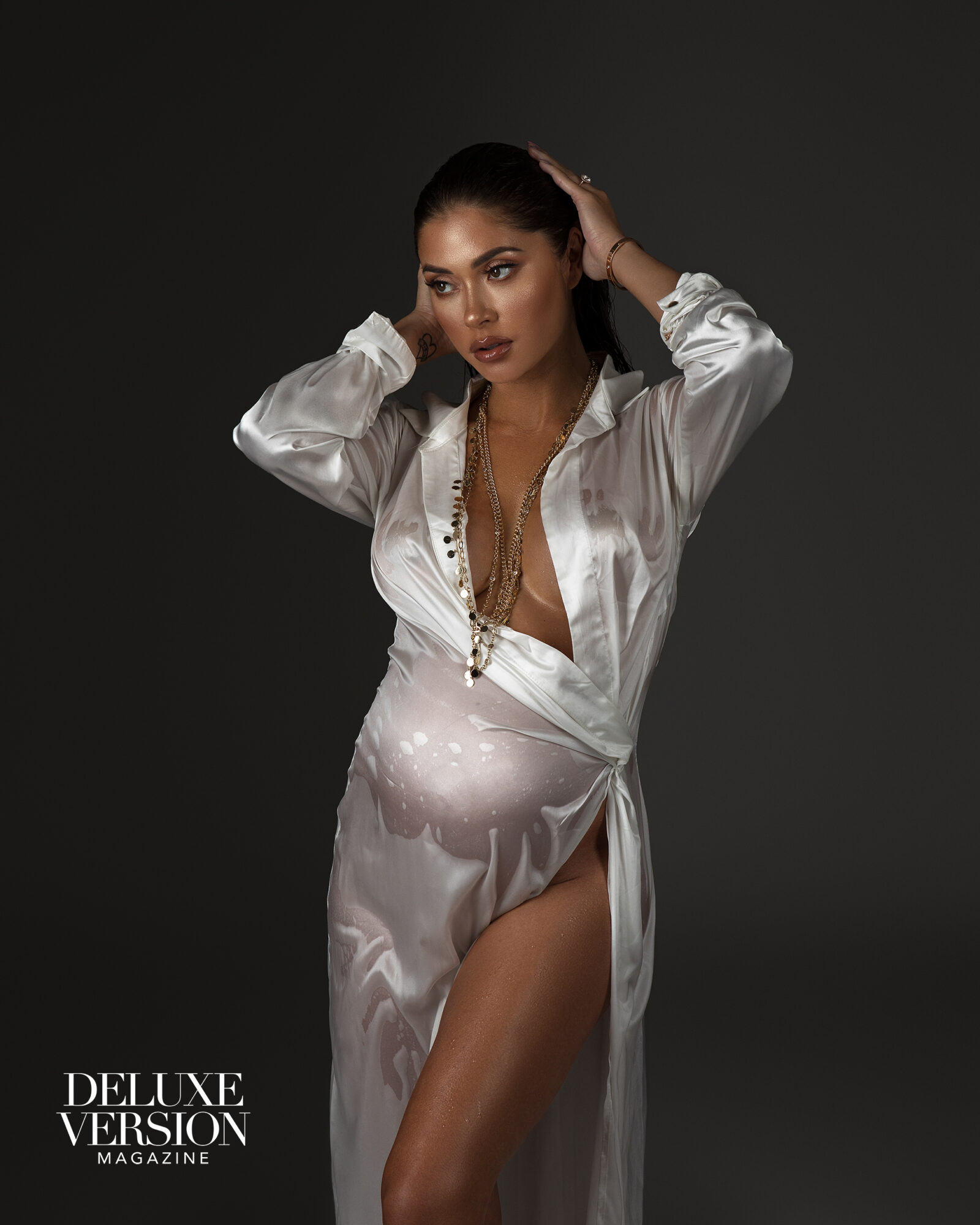 ---
The Q&A
DELUXE VERSION MAGAZINE:  A big congratulations to you and Taylor! Were you secretly hoping for a boy?
ARIANNY CELESTE:  I've always wanted a brother to defend me and take care of me. I'm girly—I love fashion and makeup and everything—so I hope that I have a girl one day too. I want to have two kids, but I'm just so happy that the first is a boy.
DVM: Have you had any issues during your pregnancy, like morning sickness?
ARIANNY: I have back pains, hip pain and leg pain, but it's just from the extra weight. Other than that, just knowing that my little baby is in my belly is the coolest and most beautiful feeling in the world.
DVM:  Why did you post that beautiful 'letter to your baby' on Instagram?
ARIANNY: I think through these hard times, it's important to remember that there's still beauty in the world, and that the love that we are about to share is part of that beauty; also, just to always be positive and remember [to] love through all this chaos, because there's so much chaos going on right now. It's really scary stuff that's happening, so I just want to protect him as much as possible. 
DVM:  How are you coping with stress right now?
ARIANNY: The more positive thinking and meditation and everything else that you can do to kind of calm your mind during these hard times is really important, and I learned a lot about that during this time. I started a meditation challenge because I was always curious about meditation. I would do it here and there, but this challenge really forced me to have to do it every morning and I saw how it affected me in a positive light. I'm doing it while I'm pregnant and it's a great tool, especially now.
DVM:  Were you concerned that pregnancy would affect your career?
ARIANNY: It definitely was something that shocked me and made me super nervous because my job has always been to be in the spotlight and to be fit and seen as the sexy thing, so all of those thoughts went through my head like, 'Oh my God!' But again, it was about that control and it was about letting go and not always having to plan every single little thing perfectly.
DVM: Your body is your calling card. Are you worried about it changing?
ARIANNY: It's definitely nerve-wracking, because you're like, 'Oh, is my body going to go back to the way it was?' and blah, blah, blah. I'm just really trying to stay positive and as active as possible, with prenatal yoga and 30 minutes of live workouts that I love, which include a lot of dancing and band work. I'm always go-go-go and doing super high-intensity workouts, but everything changes when you have a baby so you have to listen to your body. I'm just trying to be as gentle as possible with myself, not look at the scale every day, and not obsess because that can really psych you out.
DVM: Do you have a pregnant role model?
ARIANNY:  Brooke Burke has always been my mommy idol. She's graceful, beautiful, sexy, she's done Playboy, she's hosted television shows. She's very into fitness and has four kids and she still looks amazing.
DVM: You've had to step back from your UFC duties, but do you plan to return to the ring, post-baby?
ARIANNY: I definitely want to do some events once I feel good and I'm ready, especially the biggest events. That is my family, and UFC helped me become who I am. I don't think that I'm going to like traveling every weekend like I was, but I definitely want to come back.
DVM:  Did you and Taylor have to change your plans this year?,
ARIANNY:  Our plan was basically to travel the world, exploring and doing good in the world. We wanted to start this organization called 'Conscious Travel.' We had funds to do that and had a bunch of trips planned, and then we found out we were pregnant in January. So like, okay, change of plan, I might have to slow down a little bit, but we can still do this.
DVM:  How has this impacted your life with Taylor?
ARIANNY: We've taken the time to enjoy being with each other and we've grown. He is starting two different businesses. I've been busy to say the least, but I've also had the time to slow down and enjoy my pregnancy. I think that if the world were normal, I would probably have some FOMO and not be resting as much as I should be. So it's been a blessing in disguise to be honest.
DVM: You relaunched and rebranded Girlfriend Box in July. What is different?
ARIANNY:  The box has gone from a fashion box with makeup and beauty products to a jewelry box. After being in business for 2 years, I know girls love jewelry and it's really, really, really rare for them to ever want to send jewelry back. The jewelry box is now more personalized and you can choose to have it delivered one month, every month or five times a year, which means you can schedule it around special occasions and holidays.
DVM:  What's on Taylor's pre-daddy plate?
ARIANNY: Taylor is really focused on is his passion project, a nonprofit called Unity Love Equality. With everything that's going on in the world, he decided to start this to help address children's education and child sex trafficking, which is a big thing that's going on right now. We're both passionate about it and we just want to help the kids as much as possible. There's no division when it comes to unity, love, and equality.  There's no color when it comes to that. That's really what we want to teach our baby.
DVM:  So, how prepared are you for your September due date?
ARIANNY: I'm just taking this motherhood thing and running with it. I'm super excited to meet my baby and to be able to connect with women. It's just so nice to be a part of this new club and everyone, for the most part, has been so sweet and supportive and they've helped me. I hope that when I do move to Vegas, I can connect with more moms and do outings and stuff. I really want moms to feel special, to feel important, and to feel sexy. My mom gave so much of herself that she kind of forgot to take care of herself. I want to inspire moms to just take care of themselves and be a role model for their kids.
DVM:  How important is it to you to be so candid with your millions of followers?
ARIANNY: I really wanted to do something that was more personal. I've had this perfect image for so long and not everything is perfect in my life. I know that just being pregnant is a lot of work, so hopefully if I can inspire at least one woman who is going through the same thing, that makes me feel good.
DVM:  2020 has been a challenging year. What advice would you give to people who are struggling?
ARIANNY: I would say don't compare yourself to any other people or how they are feeling. If you are in a dark place, just know that that's okay and it's normal and that it will pass. We've all been there. We've all had those dark times. This is not an easy thing we're going through. So just be easy on yourself, be gentle with yourself and go outside, take a walk at a park, take your dogs out, get some sunshine. All of that is free and helps so much with your mental state.
DVM:  Do you have a name already picked out for your son?
ARIANNY: Yes, it starts with an 'R.'  But we are waiting to reveal his name when he arrives!
DVM: So is this ring girl going to 'get a ring on it' anytime soon?
ARIANNY: That is a definite plan in the future, but right now, we are focusing on our baby and this new chapter.
DVM:  And one last question: What if your son wants to fight in the UFC?
ARIANNY: I would be so nervous but, of course, I'm going to support him in whatever he wants to do. I feel like I have no choice! Ha!
---