– By Stacey Gualandi
'Let's Go' Take 5 with Shania Twain, the Returning Residency Champ on the Las Vegas Strip
"Twainiacs" are all about 2020, and with good reason: Their idol Shania Twain was recently named "Woman of the Year" by Nevada Ballet Theater at its annual Black & White Ball; she is starring in an ad campaign for Las Vegas' new slogan, "What Happens Here, Only Happens Here," and in March, the country pop icon will be back on stage at Zappos Theater in Planet Hollywood for "Let's Go!," her residency 2.0 after successfully launching sold-out shows in December.   
"I'm just loving it, and eating it up and enjoying the stability [of living in Las Vegas]," says the Canadian singer/songwriter. "The fun here, the entertainment standard, the new friends: I feel very at home here."
With "Let's Go!"—a phrase she uses in her "Get You Good" and "Feel Like a Woman"—Twain is still the one we love and is now ridin' a new wave of popularity with fans and friends who came out in force on opening night. (And, she comes out on a horse in downtown Las Vegas, too. More on that below.)
"She's a rockstar," says Carrot Top of his dear friend. "She is an amazing perfectionist and puts everything into her shows. I respect that a lot. She's a hard worker and a beautiful person inside and out. That's what makes it easy to come and support something like this."
Adding to the red carpet post-show praise: Backstreet Boy AJ McLean, former Twain "NOW" tour-mate Bastian Baker (profiled in DVM's Issue No. 12), and reality star LaLa Kent, who says "Shania can do no wrong."
The top-selling female country artist of all time is also the creative director of this latest residency run, and after several weeks of no-audience rehearsals, she couldn't wait to finally perform (with eight costume changes!) in front of a live crowd.   
---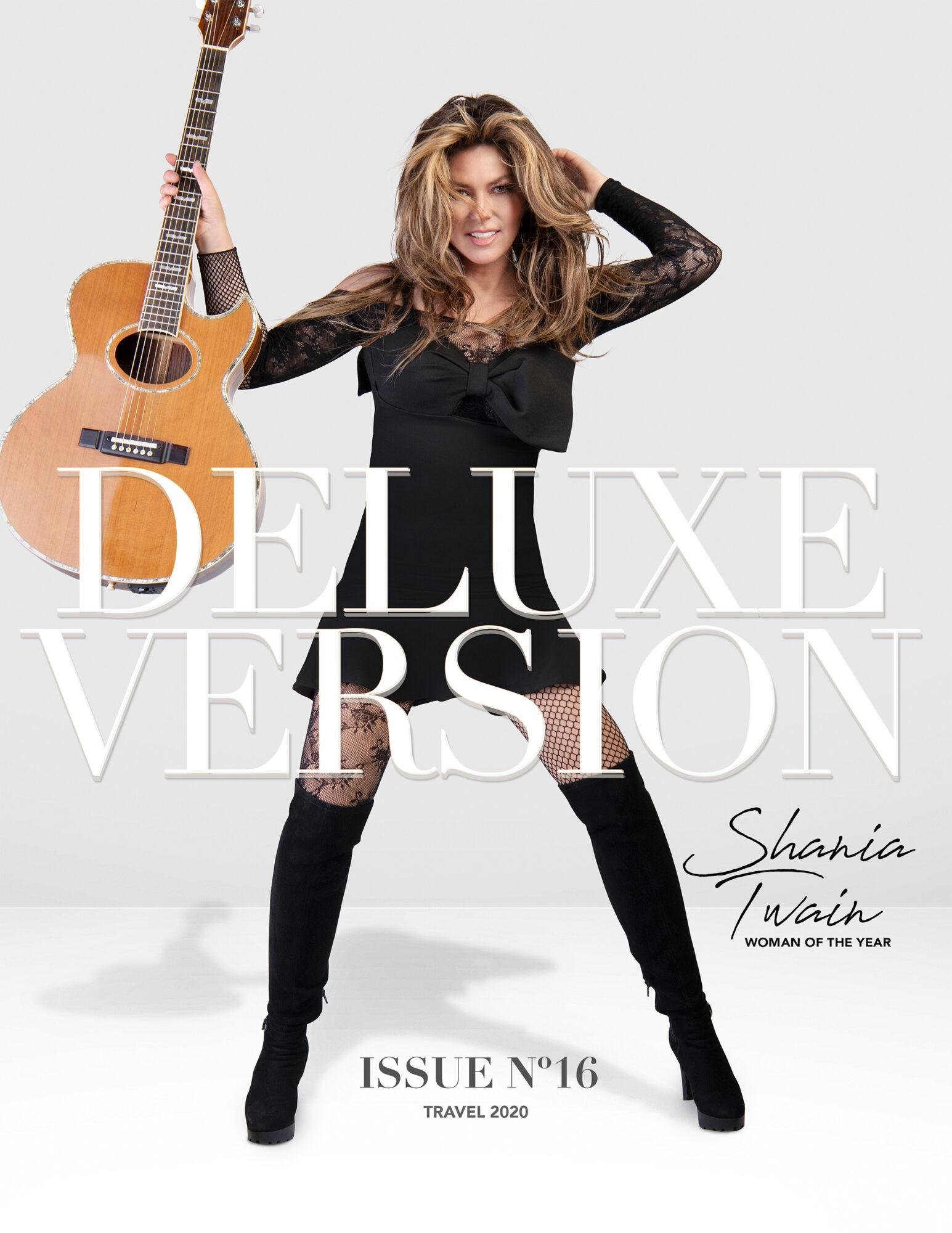 Feature/Cover Photo By Alex Harbaugh
---
"It felt good, honestly: I was relaxed and it came to life with the people in the audience," says Twain. "It all made sense. It was very rewarding and fun, and it went by super fast!"
But before we let her go, we asked Shania Twain to "Take 5" with Deluxe Version Magazine. 
ON HER SECOND LAS VEGAS RESIDENCY:
"My intention was always to do something more informal. Zappos Theater is not as formal as some of the other theaters—it's more intimate and relaxed. I've got a lot more acoustic, impromptu moments that are not big on production…it's just me and my guitar, free-styling, which is really taking me back to my roots as a teenager in the bars. This theater allows for that so I'm taking full advantage of that." 
ON RIDING HER HORSE FOR THE LAS VEGAS AD CAMPAIGN:
"Las Vegas is like a crazy, great town. There's a friendliness and easy-going nature about the residents here. And even that experience of riding a horse on Fremont Street, it's seems so surreal, but at the same time, it's like, 'Yeah! Totally. In some odd way, I could see myself doing that every weekend.
---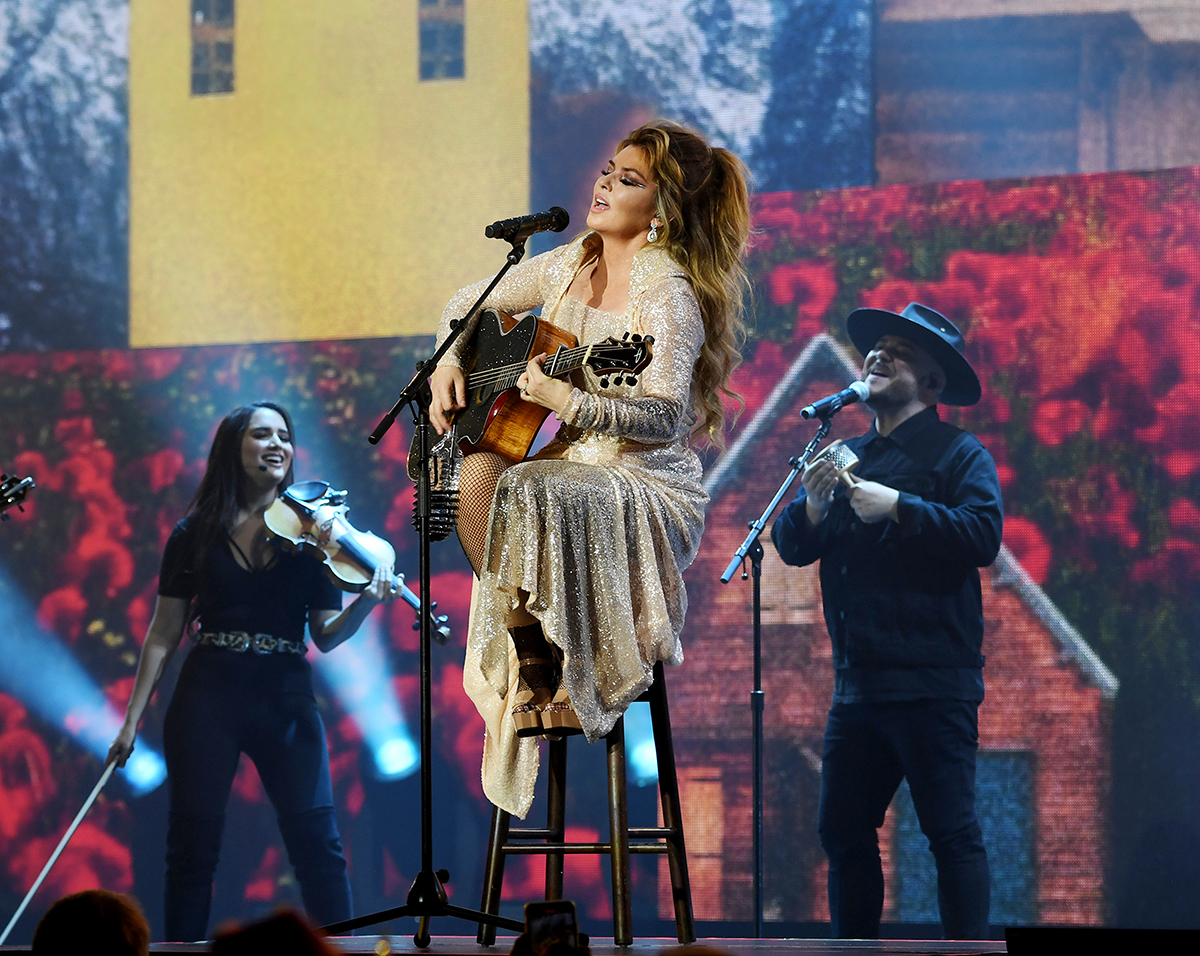 Photo By Denise Truscello
---
ON SHARING THE STAGE WITH HER DOG MELODY:
"It's a great [acoustic] moment for me. I think a lot of [the show's] acoustic moments are a soulful thing to do. It takes me back to my youth. It feels comfortable. It feels informal. It feels exactly like I want it to feel. I want the audience to sense my level of comfort and ease here with my fans—with my music—and I just want to show that lack of barrier between us."
ON BEING THE SHOW'S CREATIVE DIRECTOR:
"What I've learned about this experience—helping; [being] so involved with the production; 'directing' it—is that I personally needed less rehearsal because I already knew all the bits and pieces. (Ha!) I was more intensely [involved] with the departments than I was in rehearsals other than your staging and all of that. But by the time I was in my own performance rehearsals, I already knew where everything was laid out. I already understood the whole structure. So there was less rehearsal pressure on me and more of other hats and spreading myself around. But I love that because I mean, c'mon, rehearsals can be very repetitive and tedious. So I enjoyed the variety of wearing different hats and I wasn't stressed by it at all. It was great.
ON BRAD PITT:
["That Don't Impress Me Much"] became one of my biggest songs, but I mean…how would I have ever known it was even going to be a hit song? It was just something that I did with some sense of humor, but it's sort of a running thing for me now [that] I've never met him! So we have this connection through this giant hit, and yet we've never met.
---