If you've ever wondered how 8 News Now's Denise Valdez looks camera-perfect every evening on screen, it all starts with a custom-built, walk-in closet designed by Inspired Closets Las Vegas.
Denise aspired to be a journalist since high school. She earned her degree at Pepperdine University and was a tour guide at Universal Studios where she would get on the microphone and give a three-hour tour to hundreds of people. It was in this role she learned how to Ad lib and think on her feet – something that would come in handy during her extensive broadcast career in Las Vegas.
Calling Las Vegas home for 17 years, Denise has covered countless memorable moments, watched as professional sports teams have made their way to the Strip, won four Emmys, and has been a face of local television for over a decade.
Denise worked with Inspired Closets to create the perfect custom space to remove the unnecessary stress of getting ready for the day – because there's plenty of stress in the newsroom.
A closet is a personal, intimate, and essential part of daily life for anyone – but especially someone who is on screen every day.
"I'm a storyteller. I sort of tell a story through my wardrobe. I want everything to look classic and well-structured. I want it to look colorful when it needs to be, somber on other days – and that's sort of the story of the closet."
Inspired Closets believes in the transformative power of custom organization and came up with some unique concepts to help Denise maneuver through the getting-ready process with ease.
---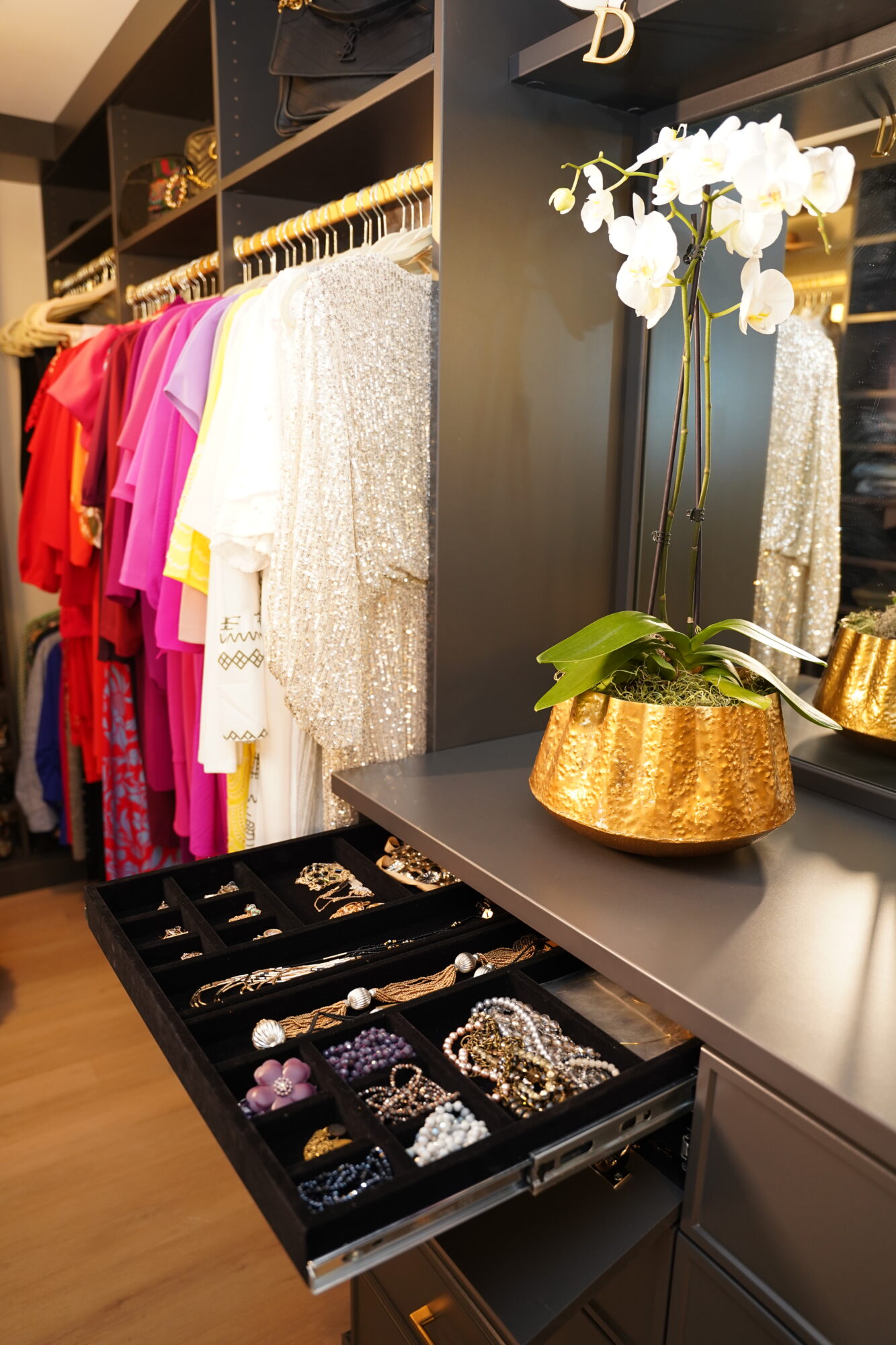 ---
"I wanted a lot of clarity, ease, and organization," Denise explained that there's a recipe for working as an anchor. Knowing that color looks good on television, she tries to mix it up with what she wears every day. Everything has a place and the closet makes it fun to get ready every day.
The design of the luxury build was developed in partnership with Custom Closets to create something functional and beautiful that can be enjoyed forever. They embraced the no-window closet for a darker, moodier feeling of elegance. Beautiful wallpaper and fixtures, custom shoe shelving, and sleek (and hidden) accessory organization paired with lighting fixtures from Valdez's previous home create a one-of-a-kind space.
Her clothes are organized by color and style so it's easy to get dressed before heading to the station. Denise's best-kept secret is that she writes down every outfit she has worn for the entire year. What started as turning around hangers to remember what she wore that week evolved into a detailed log of her on-air wardrobe to help with the nature of the business.
---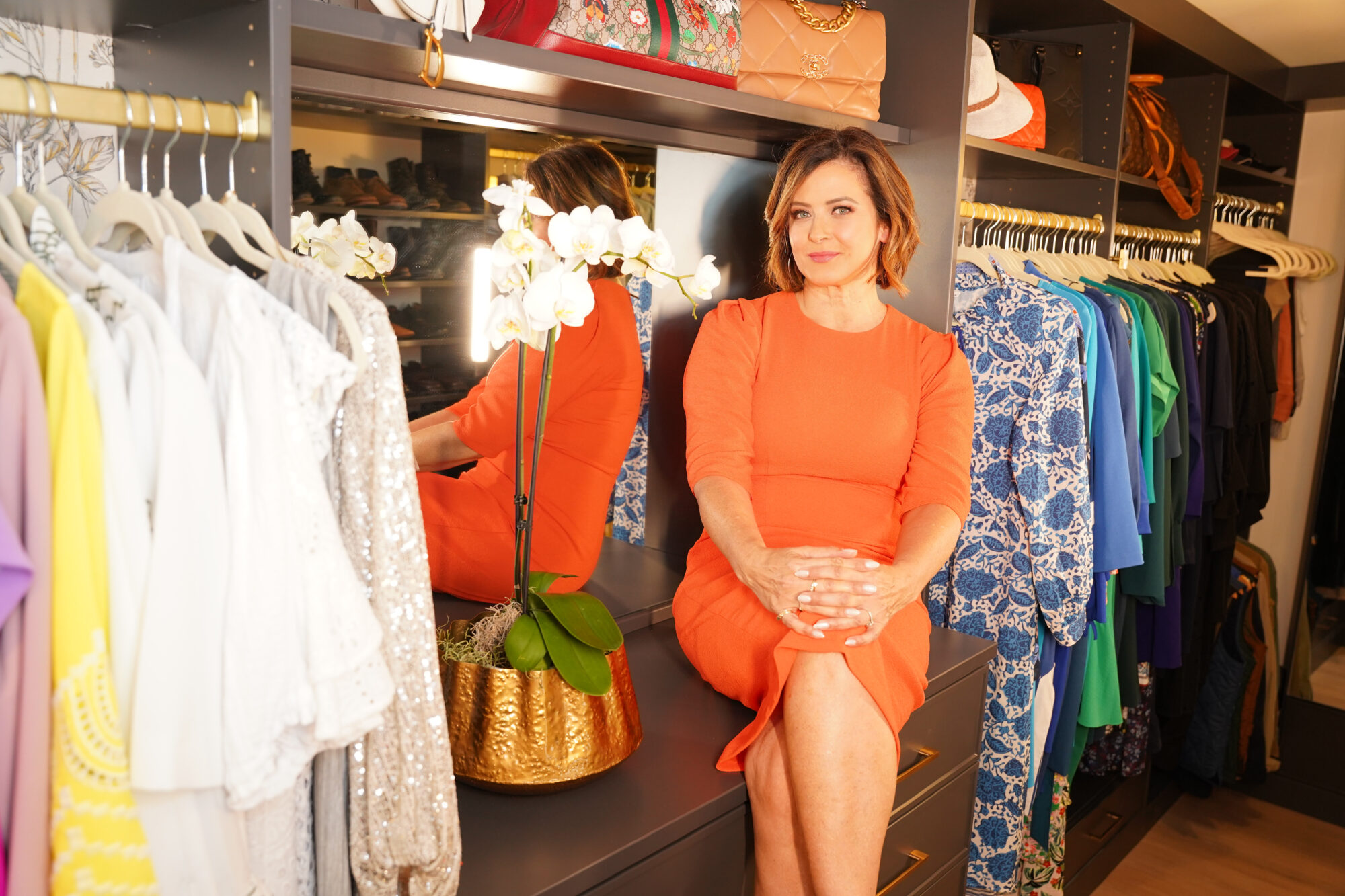 ---
Sharing Denise's keen eye for details, Inspire Closets counted all of her shoes (and her husband's) to make sure there was enough space and shelving. They also measured the length of her dresses for bar placement to ensure all of her dresses would fit and the longer clothing would have plenty of space. Other unique elements include a custom mirror that opens for storage and a place for folding items.
"After doing the closet, it just felt like home. It's home base," Denise said. "I come in, I get ready, don't have to think too much about it, and then I'm ready to walk out the door and start my day. It makes my life easier, simpler, and more organized."
So how does she choose what to buy and keep in this stunning closet? Denise works on finding things that are timeless. "When I'm purchasing clothes, you won't see a lot of high-end fashion. Quantity is key for this closet." She gravitates toward Black Halo, Trina Turk, Eliza J, and Donna Morgan as the foundation of her television wardrobe.  She also considers how a neckline may interfere with a microphone. There are some fun weekend picks hanging up, but this closet is a true work wardrobe.
---
---

"You want to look contemporary, but classic. I never want people to look at what I'm wearing. I want them to listen to what I'm saying."
As she continues remodeling other parts of her 1973 home, she wants to stay true to the house without sacrificing its history, but also make it modern and livable.
Denise loves her job, her city, and the fact that she never has the same day twice. When she isn't on-air, Denise serves on the Board of Nevada SPCA to help save the lives of vulnerable pets in the Las Vegas area.
---
Book A Closet Consultation Today At www.InspiredClosets.com
---