Latest News
We Have To Believe In The Magic Of Olivia Newton-John
 (Feature Photo By Michelle Day).
Olivia Newton-John is thriving during a very challenging moment in history. The world continues to face a global pandemic but Olivia is taking this opportunity to focus on what she does best. The iconic British-Australian actress and singer is gearing up to release new music in 2021. She is also working to fund research on plant-based and holistic medicine for people facing cancer with her charity, The Olivia Newton-John Foundation. Additionally, Olivia is advocating for the therapeutic use of cannabis to treat health ailments. The one thing not slowing her down – her third bout with cancer.
Olivia skyrocketed to global fame in 1978 when she played Sandy in the film version of the Broadway play, Grease. She starred alongside John Travolta in the film which is still one of the highest-grossing movie musicals of all time with box office totals well over 400 million.
Olivia shared that "playing Sandy in GREASE really changed my life. I was having some great successes with my music prior to the film and was even honored to receive a few Grammys and lovely honors. However, GREASE was so global it pushed me into another realm – and I'm beyond grateful for that experience. Dancing with John Travolta wasn't so bad either!"
After Grease, Olivia continued her movie musical run with the cult classic Xanadu. The movie remains a time capsule of 1980's kitsch and Olivia has an inkling as to why. "Xanadu for me was way ahead of its time.  The script wasn't great but the music was fantastic.  My longtime friend and producer John Farrar wrote and produced some of my biggest hits including "Magic" from that film." The film was choreographed by Kenny Ortega and Olivia even had a chance to share the screen with another iconic male star. "I got to dance with Gene Kelly – what a surreal (and scary) experience," she gushes. "He was such a lovely man who really taught me a lot.  What's really great is that the film now has screenings all over the world in cult film houses and they even made a Broadway musical out of it which was hilarious!"
Olivia continued to soar up the music charts in the 1980s with bangers like her hit single and music video Physical. Her music career has earned her four Grammy Awards but Olivia did have some hurdles while climbing the pop charts. She shares, "I would have to say back when I was starting it was all about paying your dues and touring and playing live wherever they would have you." Olivia's vibrant vocals lead her to win a Singing-Idol type of competition which brought her to England, where she would meet her singing partner Pat Carroll and Cliff Richard. Richard featured Olivia on his show but ultimately she feels the material was key to her success. "Back then it was really about having great songs and producers and of course the right opportunity.  I am very blessed to have had all of those things happen for me," Olivia said.
---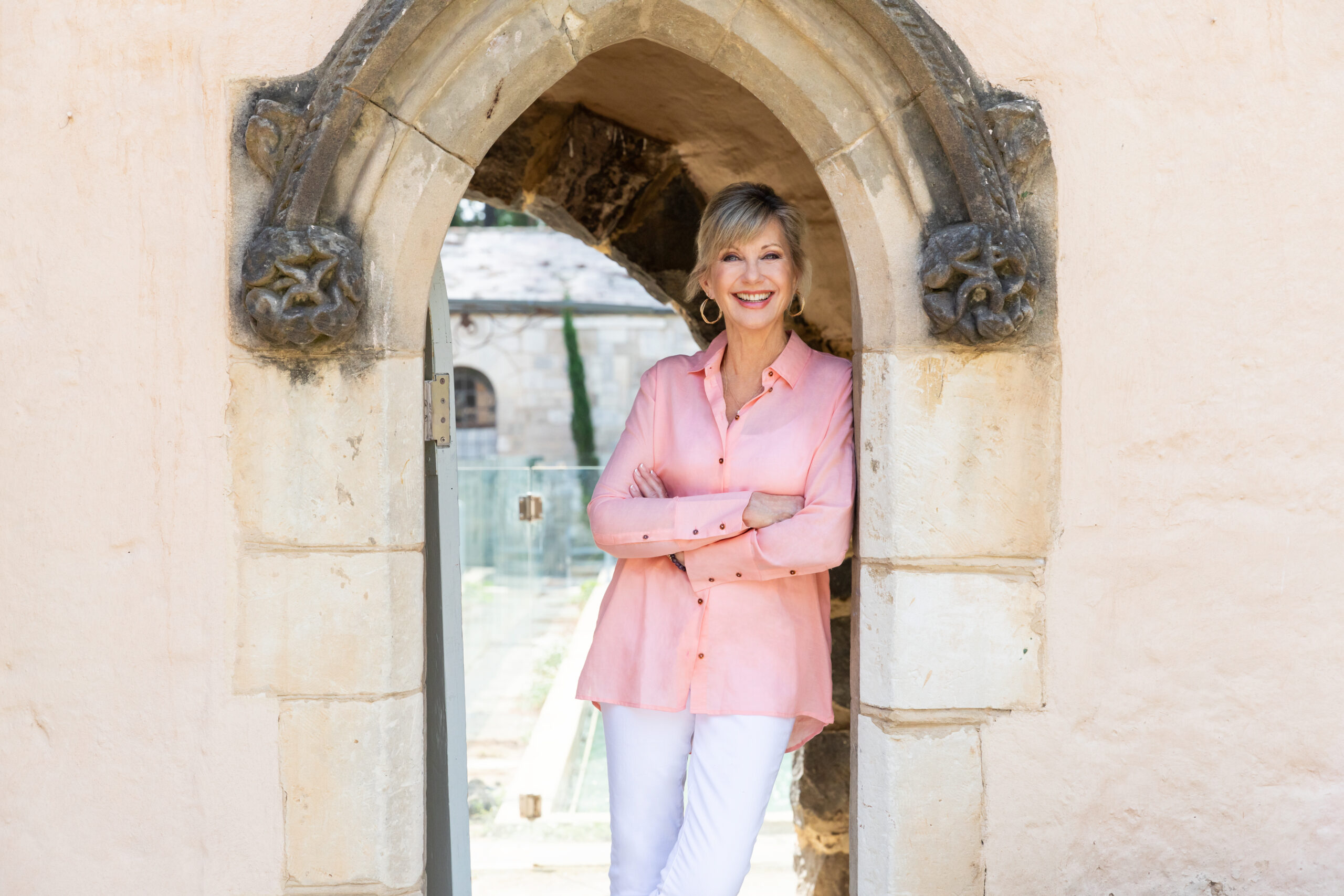 ---
Recently, Olivia has been focusing on two important projects – cannabis and her charity. She is facing her third bout with cancer since 1992 and she is very vocal about her approach this time. Her husband John is a staunch advocate and cultivates cannabis on their spacious Santa Barbara, California property. "I am so fortunate to be married to an amazing man, "Amazon John" Easterling, who happens to be an expert with herbs, plant medicine, and cannabis.  Throughout my current cancer journey, he has created special tinctures from cannabis he grows in our greenhouse – everything to help me – from pain to anxiety to sleep," she shares. Olivia continues, "There have been many studies of cannabis completed with very exciting results and we intend to do further studies with money raised through my foundation fund to add to the body of scientific studies."
Olivia's goal with The Olivia Newton-John Foundation Fund is to help realize a world beyond cancer. With her holistic approach, she is "determined to discover kinder ways to prevent, treat and cure all cancers." She shares, "my dream is that we will realize a world beyond cancer. I honestly believe we can do it.  The foundation will help fund studies to prove the science behind plants.  There are over 100,000 species of plants in the rainforest and only 3% have been studied for their therapeutic value. Only 3%!  With 100,000 species of plants just imagine the possibilities."
In 2020, Olivia added some new skills to her list of talents including baker. "I learned to bake bread and I've been painting. Oh – and I love gardening and this year I actually got to plant vegetables early in the year and watch them grow and then prepare meals with them – I've always wanted to do that," she shared. She has also been enjoying time with her family and has recorded a new song with her daughter, Chloe Lattanzi. "It's called "Window in the Wall" and the lyrics really connect with what is going on in our world today.  I knew I wanted to sing it as a duet and my daughter Chloe (Lattanzi) was my first choice and she said yes," Olivia shares. The two had a Number One Billboard Dance Club Play hit five years ago with a riff on a  remake of Olivia's hit "Magic."
From cannabis and cancer research to create new music to becoming a master baker – Olivia Newton-John has not let a pandemic slow her down. The multiplatinum songstress's career spans decades and she's ready to conquer the world even more in 2021. We have to believe in magic and magic personified is Olivia Newton-John.
---